John Legere and T-Mobile finished 2014 on a strong note—which is good news, because 2015 is shaping up to be a critical year for the American wireless carrier and its highly entertaining CEO.
T-Mobile US announced this morning (paywall) that it added 1 million "postpaid" phone customers (those on rolling month-to-month plans, the most valuable type of customer) during the December quarter of 2014, meaning 4 million postpaid phone customers joined the carrier last year. It was a record year for the company in terms of customer additions.
T-Mobile has been shaking up the US wireless industry with aggressively priced, simple, and transparent phone plans, which offer added perks such as cheap international roaming and bandwidth-free access to streaming music services. Its CEO John Legere's wild, foul mouthed and fun promotional antics have helped.
Evidently, all of this has been a hit with American wireless customers. But it hasn't done much for T-Mobile's shareholders yet. The stock is up a bit today, but fell by about 20% last year (a deeper decline than its bigger peers Verizon and AT&T, but admittedly nowhere near as bad as the decline suffered by Sprint).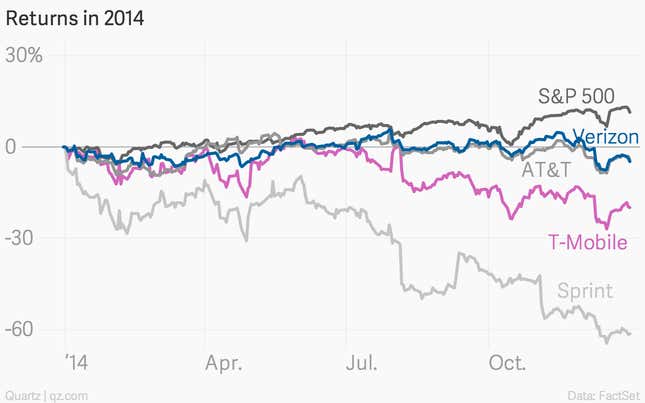 Sooner or later, this is going to be a problem.
T-Mobile's majority shareholder is Deutsche Telekom. The German telco giant has long desired to exit the US after burning billions of dollars in the country.  Last year it looked like it may have finally had a way out, with rival carrier Sprint (majority owned by Japan's SoftBank) eyeing a takeover of the business, only to walk away (paywall) when it became clear that US regulators would never let that fly.
A price war (kicked off, arguably, by T-Mobile), along with a multi-billion dollar bidding war for spectrum (the airspace needed to operate mobile networks, which is being auctioned off by the government) are expected to crimp returns in the US wireless sector this year, which makes it a dicey time to enter the industry and an uncertain moment for T-Mobile.
That said, many Wall Street analysts remain firm believers in Legere and T-Mobile's story. "Given the limited promotional activity, the strong results point to improving brand recognition and likely upside to [earnings] forecasts," Jefferies analyst Mike McCormick said of T-Mobile's subscriber growth this morning. Macquarie Capital's Kevin Smithen thinks T-Mobile can survive without being acquired for the foreseeable future. "If they can grow subscribers for a couple of years the profitability will follow," he tells Quartz.
Whatever the outcome, 2015 should prove to be a compelling chapter in T-Mobile's book.