The world's biggest energy consumer is socking away inexpensive oil for a rainy day. Reuters analysts estimate that Chinese imports of crude oil rose 10%, to more than 31 million tonnes (32 million tons), last month, even as its economic growth flagged. That suggests China added as much as 124 million barrels to its strategic reserves last year, roughly double the previous year's total.
"Judging from their economic figures, we expected that crude imports would not increase," Daniel Ang, an analyst at Phillip Futures, told Reuters, adding that China may be close to filling its stockpile capacity. Citibank said in a research note (pdf) this week that China has been building up its strategic petroleum reserve (SPR) storage facilities on its coast, with up to five facilities—in Yangpu, Jinzhou, Huangdao, Huizhou, and Zhousan—set to open in 2015, adding some 100 million barrels of capacity in total.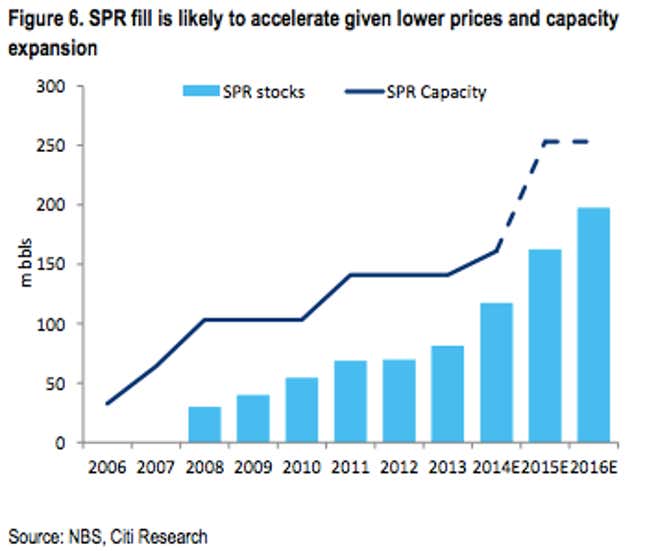 "With the combination of dramatically lower prices and the opening of new coastal storage tanks, [we are] likely to see strong stockpiling," Citigroup's analysts concluded.
The Chinese government's tight control over oil imports means that consumer prices have not fallen as quickly in the country as in the West. But Beijing has the ability to smooth out volatile energy prices, while also maintaining a reserve to supply inexpensive oil to state-owned refineries like Sinopec.
Still, it's not likely that China's oil-buying spree will help shore up oil prices. As Quartz reported earlier this week, Citigroup analysts predict that growth in the country's oil imports will be just over 3% this year, compared with almost 9% last year. "Anyone hoping for China to drive a rebound in oil prices is likely to be disappointed," the analysts wrote.