Spotify's impressive growth continues.
The Sweden-based streaming-music service announced today that it's hit 15 million paying subscribers globally, and that it's total user base (i.e including those who use its free service, which involves listening to ads) now stands at 60 million.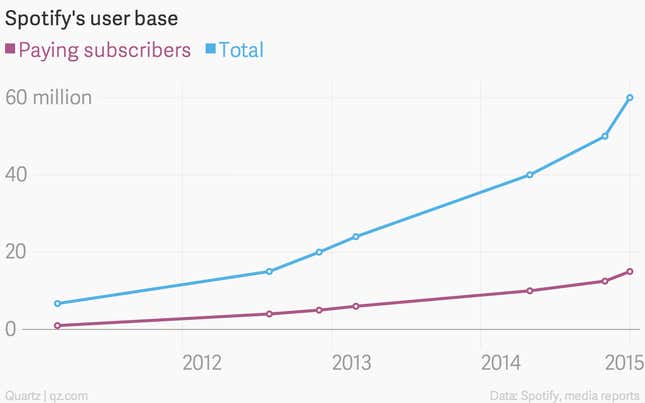 In other words, since Taylor Swift, arguably the most popular pop star on the planet right now, decided to withdraw her entire catalog from the service in November, Spotify has increased both paying and total users by 20%.
It's difficult to compare Spotify's growth rates with other internet companies because it releases user data at infrequent intervals. But 20% growth since November, and 50% growth since May least year seems fairly attractive. And it still has plenty of room to grow, because streaming music is not anywhere near mainstream yet. (For example, in total users, Spotify is about one fifth of the size of Twitter.)
The growth in both free and paying users suggests Swift's shock decision, and the huge media storm that accompanied it, actually did more good than harm, by creating awareness of streaming music in general, and Spotify in particular. The CEO of Spotify's rival Rdio, Anthony Bay, acknowledged as much in an interview with Quartz in December. "I think it is going to be good for the industry long-term," he told me.
It's worth remembering that in December, Spotify unveiled an aggressive discount offer, giving people three months worth of access to its premium, ad free product for just 99¢. A spokesperson told Quartz via email that the offer helped, but that most of the growth was organic.
In any case, growth in users is crucial for Spotify amid speculation record labels (which also own equity in the business) want it to drop (paywall) its free service, which unlike other ad-supported streaming services, allows for on-demand listening. The free service is considered as a key conduit to attract paying users. (Other free-streaming services are typically more radio like, i.e they don't allow for listening of specific songs, and Spotify's free service is what many believe Swift was most upset with, since it impacts album sales and royalties than the subscription product does.)
The growth is also timely because Apple expected to integrate the Beats streaming service, which it bought in a $3 billion deal last year, into its iTunes brand in coming months. This could enable the device giant to convert millions of music customers into paying subscribers. Lastly, user growth could hardly hurt if Spotify decides to proceed with a long rumored IPO.
Ultimately, if Spotify can continue it's rapid ascent the inflection point for the music industry we keep talking about might get here even faster than expected.