Yes, 2014 was a big year for the music industry, but 2015 could be even more important. A couple of weeks before it officially begins, it is already shaping up to be a watershed year. And this chart explains why: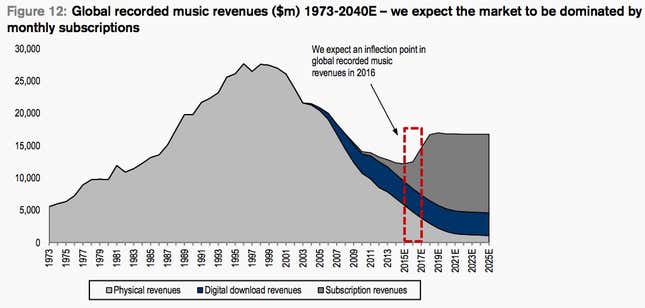 Next year, revenue for the recorded music industry will finally reach a bottom, bringing to an end the incredibly painful decline that began in the late 1990s, with the arrival of Napster and other illicit file sharing services. That's according to projections released the by investment bank Credit Suisse earlier this year. And it will all be driven by the increased adoption of streaming-music subscriptions.
Despite all the bluster by some in the industry—we're looking at you, Taylor Swift—streaming subscriptions are the light at the end of the tunnel for the beaten and battered music industry. They typically cost about $120 a year, meaning they generate double what the average consumer that is still prepared to pay for music spends each year.
Streaming music subscriptions are expected to grow significantly next year (Credit Suisse forecasts imply a 63% increase). Some of this growth may come from the world's two biggest technology companies, which are taking steps that could give paid-for streaming music a huge boost: Apple is expected to merge Beats, the streaming service it bought in a $3 billion deal, into its iTunes brand, which may help it convert millions of existing music customers into subscribers. Google's YouTube platform (the biggest music streaming site of any kind) is poised to launch Music Key, a paid-for service, in coming weeks.
And some of the growth will surely come from Spotify, the biggest kid on the subscription music block which said last month it had 12.5 million paying users.
But this could also (literally) come at a cost to consumers.
End of the free music era?
Spotify was engulfed by a wave of negative publicity last month when Taylor Swift, arguably the most important figure in the music industry right now, withdrew her entire catalog from the service. It was widely reported to be a dispute over royalties, but as Rdio's CEO Anthony Bay explained to me last week, it was actually more subtle than that:
She is not anti-streaming. She is not actually anti-Spotify, per se. She is anti free on-demand music.
Spotify is the only all-you-can eat streaming service that has a free tier where listeners can choose any song in its library, as long as they subject themselves to ads. Other services either do not have free tiers (like Beats), or if they do (like Rdio) they are more radio-like, where a listener can choose an artist or genre but not individual tracks. Spotify CEO Daniel Ek sees the free tier as a key aspect of the service, that encourages people to eventually take out subscriptions.
Spotify is expected to enter delicate negotiations with at least one (paywall) major label in 2015 over access to its library, a key order of business as it eyes a possible IPO. Pressure is mounting over its free tier. The biggest free internet radio service, Pandora is also under serious pressure from labels and publishers over the amount it pays in royalties.
If the labels get their way, completely free, interactive and legal music may also soon be a thing of the past.