Spotify is growing nicely. The Swedish-born streaming music service now has 12.5 million paying subscribers, and 50 million active users.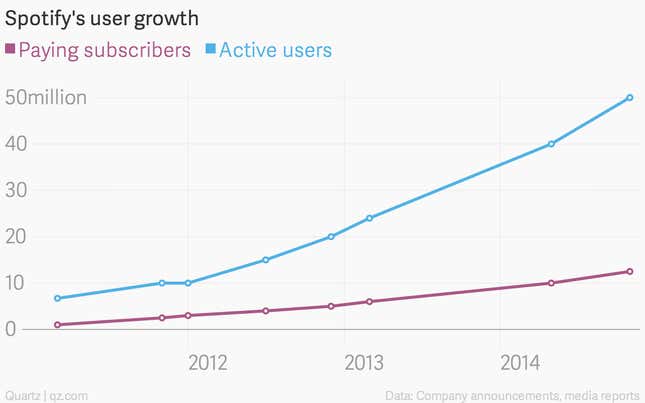 That's an increase of 25% on both measures over the past six months —attractive growth rates in anyone's book.
The update on subscriber growth was contained a fairly defensive blog post by CEO Daniel Ek this morning. Recall that last week, Spotify was engulfed by a wave of (negative) publicity when Taylor Swift withdrew her entire catalog from the service. "Our whole business is to maximize the value of your music," Ek wrote.  "We don't use music to drive sales of hardware or software."
The last comment can be taken as a thinly veiled dig at Apple and Google, which are both embarking upon ambitious plans to do exactly that. Ek's throwaway comment is perfectly timed, because the Financial Times is reporting (paywall) that Google-owned YouTube will finally launch its long-awaited, subscription-based, streaming music service "in a matter of weeks."
Of course, Google already has its own Spotify-style streaming music service, Google Play Music. It also recently bought Songza, a passive, radio-style service akin to Pandora Media (the market leader in that space) but with arguably even better recommendation tools.
But as Spotify itself has admitted, YouTube is already, easily, the biggest streaming music site on the planet, and that's without it even really trying. The YouTube brand, which gets a staggering 1 billion unique visitors each month, might be in a stronger position to convert users into paying music subscribers than its parent company has been. The service will include the ability to watch videos without advertising, and the ability to save music for listening offline, the FT reported.
Spotify this morning said it has paid out more than $2 billion to rightsholders since its inception in 2008, $1 billion of that since this time last year. By comparison, YouTube has paid out $1 billion in music royalties since 2007. That is not strictly a fair comparison, since Spotify has probably been paying higher royalty rates up until now, as its service has had more functionality. But Spotify will no doubt be keen to capitalize on any suggestion it is no longer the industry's bad boy. "We use music to get people to pay for music," Ek wrote this morning. "The more we grow, the more we'll pay you."
It is probably going to need all the help it can get. With Google/YouTube and Apple (which is expected to merge Beats and iTunes in coming months) taking streaming music very seriously, Spotify is facing extremely deep-pocketed competitors, with millions of existing users of adjacent services who might be easily converted into streaming music customers. Which means the kind of growth Spotify has been achieving up until now might be harder to come by.