After a few years of stagnation, Apple may have just set a new record for Mac sales for the second quarter in a row.
Research firm IDC estimates that Apple shipped 5.75 million Macs in the last three months of 2014. That's about 200,000 more than it reported shipping in the quarter that ended in September, and almost one million more than the last three months of 2013. (Apple will report its December quarter results—its fiscal first quarter—on Jan. 27.)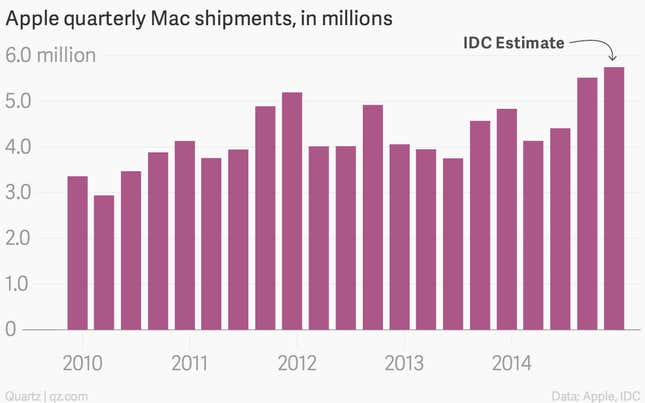 Apple also continued to outpace the broader PC industry, which posted a 2.5% decline in shipments during the same period, according to IDC, and a 2.1% decline for the full year. (For a second opinion, Gartner estimates PC shipments grew 1% year-over-year during the fourth quarter.)
IDC's estimates suggest that the computer market is consolidating. The top five computer sellers all increased their shipments over the prior year, with Apple leading the pack with an 18.9% increase. But shipments at all other computer makers fell by a combined 20.7%.