Southwest Airlines earns its keep by pairing high-quality customer service with a no-frills product. But the airline is getting decidedly frillier: It just launched a line of sleek handbags designed from old airplane seat cushions.
After a large-scale redesign of its cabins that standardized its look last year (it included replacing 800,000 airplane seats to lighten the load of Southwest's planes by 600 pounds per plane to save on fuel), the company was left with roughly 43 acres of leather.
The airline took the leftovers to design company Looptwork, a Portland, Oregon-based company that incorporates industry waste into fashionable designs that conserve water and emissions. The result is a new line of vintage-inspired backpacks, duffle bags, and convertible totes branded as Looptwork's LUV Seat line. Looptwork says using the seat leather for the handbags conserved 4,000 gallons of water and cut the carbon emissions required to use virgin leather by 72%. The bags are available for pre-order on Looptwork from $150 to $250, depending on the style.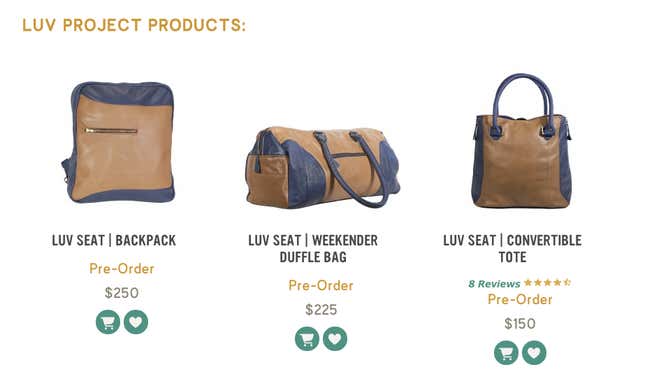 Handbags are just one of the many ways Southwest has been earning cool points. The company has given away free Wii U consoles in-flight, and recently began offering in-flight weddings.
It's all part of an effort to attract younger fliers and keep pace with low-cost competitors like Virgin America and JetBlue, which have lured younger crowds with gimmicks like cricket protein bars, mushroom tea, and digitally-ordered cocktails that you can send to your cute neighbor (paywall).
Those fads may come and go. But if they fail, there's always Southwest's lingering two-free-checked-bag policy. If that goes away, cricket bars and fancy handbags aren't likely to bring the loyalty back.