Thousands of taxi drivers have been going on strike in more than ten Chinese cities over the past few weeks to protest high franchise fees charged by taxi companies. Chinese drivers say these fees make it difficult for them to compete against fast-growing taxi-hailing services like Uber and a slew of home-grown apps like the Tencent-backed Didi Dache or Kuadi Dache, which just raised more than $600 million from Alibaba and Softbank.
Authorities are cracking down on unlicensed so-called "black cabs" to protect the traditional taxi industry in Beijing and other cities, as Quartz has reported—but this crackdown isn't enough, according to striking drivers in  Changchun, Chengdu, Jinan, Nanchang and other cities. The wave of protest are the biggest cab driver strikes in China's history, according to local media.
Strikes across the country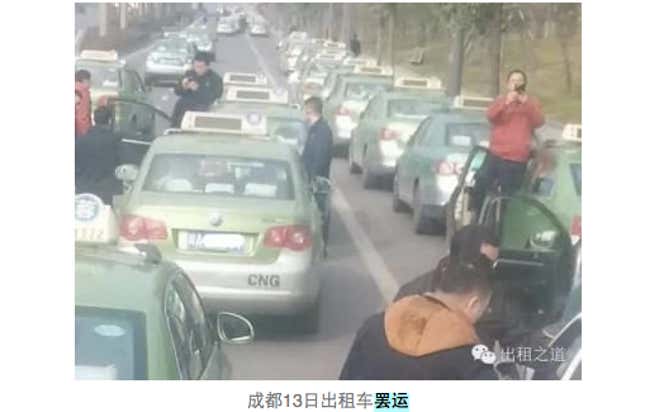 The series of strikes first started in Shenyang, northeastern Liaoning province, on Jan. 4 and spread throughout the country. Some reports of this week's taxi strikes were censored on portal websites, including the state-run Xinhua net.
But here's what happened in a few cities:
On Tuesday, Jan. 12, taxi drivers in Changchun stopped work, gathering on the streets and parking their cabs in long lines to block traffic, as photos (left, cached page) from Chinese media showed. Leaving their car blinkers on, some drivers stood on the street in protest. The strike lasted for two days, with police attempting to break up the protest several times.
Hundreds of taxi drivers from Wuxi, southeastern Zhejiang province, joined in as police checked unlicensed taxi services this week, besieging two private cars in one instance, as shown on a social media account on Wechat. One blogger from Wuxi posted photos on the microblog Weibo showing riot police deployed: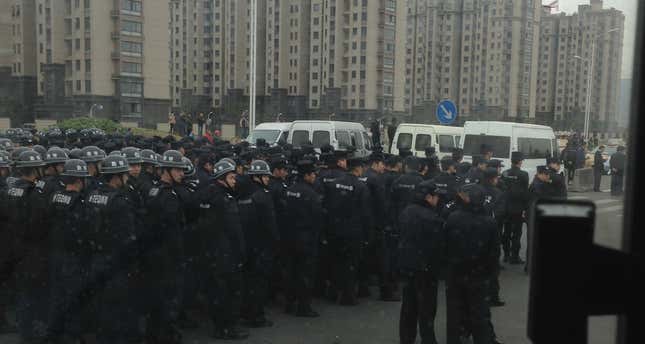 Protesting drivers in the southern Chinese city of Nanjing beat taxi drivers who kept working, calling them "betrayers" and smashing their cars, state-run People's Daily reported on Jan. 11. Similar incidents also happened in Jinan, northeastern Shandong province, People's Daily reported.
These may be the biggest, but they're certainly not the first. Taxi drivers in China have long complained about high franchise fees and unlicensed cab competitors. Taxi strikes spread in four cities were reported in December, 2008 – the largest one in Chongqing, where passengers and taxi drivers were beaten and cars smashed.
"Whip-round money" and "Rickshaw boys"
In China, licensed taxi drivers are required to pay monthly franchise fees, also known as fenziqian (which literally means whip-round money), to taxi companies they sign contracts with. (Most cities are dominated by a few state-owned taxi companies.) Taxi licenses are largely owned by state-run companies that are local monopolies, and new license issuance has been almost frozen since the early 1990s. In Beijing, the number of licensed drives has barely budged—there are only around 66,600 official taxis in Beijing, only marginally more than the 60,000 in 1994. Bidding for these licenses has been driven as high as 1.4 million yuan ($225,861) in some cities.
Taxi drivers, who are often described as "Rickshaw Boys," or luotuo xiangzi (literally "auspicious camel lad"), a reference to a pessimistic character who makes his living pulling a rickshaw in colonial China in the historical novel Rickshaw Boy by Chinese author Lao She.
Today's drivers say they have to work over 12 hours every day to earn a living and hand in all the money they earn in the first eight hours to their taxi companies, who "just sit and wait for the money," as state news agency Xinhua reported on Jan. 7. In Nanjing, taxi drivers are required to pay a franchise fee of 7,000 yuan ($1129) to 9,000 yuan ($1452) per month, while in Beijing and Guangzhou, the number is about 4,000 yuan ($645) or 5,000 yuan ($806), according to state- run English media China Daily.
"I get up before 6 am every morning and sit for about 14 hours a day, only to get 2,000 yuan a month. That's unbearable," a taxi driver in Nanjing told China Daily. His earnings equal $322, with which he can just afford to rent an apartment of about 50 square metres in the city's downtown area.
Enter taxi-hailing apps
Taxi-hailing apps may be the last straw to break the camel's back. Some taxi drivers in Shengyan told Xinhua that their monthly incomes had dropped from 5,000 yuan ($806) to 3,000 yuan ($484) after Didi Dache launched its premium service Didi Zhuanche, which connects private car owners directly with passengers. The same service is now also provided by Uber, Kuaidi Dache and other local apps.
In spite of higher prices, private cars, which offer wifi, snacks, or even slippers, appear to be heavily in demand in China. Didi Zhuanche's average daily rides rose from 50,000 when it was first launched last September to over 300,000, in December, executives told the 21st Century Business Herald. Private car owners on Didi Zhuanche hand in 20% of each ride charge to the company, and earn 3,000 yuan ($484) to 5,000 yuan ($806) per month, by working only three to five hours a day.
What's worse, taxi drivers say, is that authorities' crackdown on "black cabs" may not be a problem for those deep pocketed technology companies behind the taxi apps. Didi Dache told its private car owners that they would pay 80% of the fines they incurred from police for using the app.
The future of China's taxi cabs
There was a time, before private cars were introduced to the industry, when taxi drivers were happy to use taxi-hailing apps. For them, it was a more profitable to get passengers, compared to cruising around looking for customers or answering radio calls from the taxi companies. Now that alliance may be coming to an end and the loser may be the customer.
Professor Xue Zhaofeng, of National School of Development, Peking University wrote in the Economic Observer last year, "Unless the government can point a gun at the taxi drivers to force them to drive, the punitive measures can only suppress the supply, making it harder for passengers to get a cab."