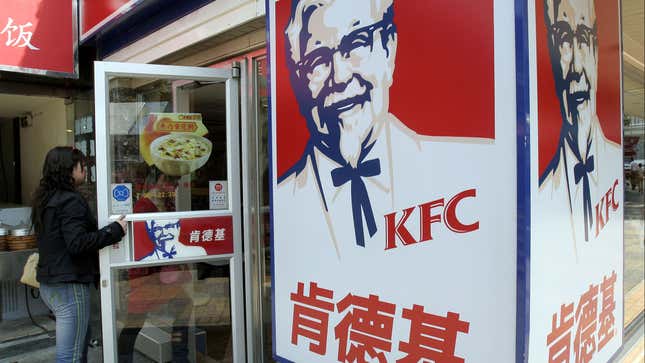 KFC-owner Yum Brands shares are taking a hit today, after the company's full-year 2013 guidance reset expectations about how fast the company is expecting to grow in the People's Republic next year. Here's a look at the offending passage:
For the fourth quarter, stronger than expected operating performance from Yum! Restaurants International and our U.S. division is offsetting softer sales in China, where we now expect same-store sales to be negative as we overlap 21% same-store sales growth from last year. Full-year same-store sales growth in China is expected to be 6%. Next year will be another strong year for our China division, given this year's record development of at least 800 new units and significant innovation in the pipeline, underpinned by world class operations. We are extremely confident Yum! China remains the best growth story in the restaurant industry.
Yum is expecting a 4% decline for same store sales in China next year. The market doesn't like it. The stock is down stock is down nearly 10% at last glance.