Memo, a new messaging app, wants to modernize office gossip. The app debuted on the Apple App Store last month, and follows the recent trend of anonymous messaging apps, such as Whisper, Secret, and Facebook's Rooms. While these apps' popularity have started to wane, Memo may have something that the others don't—focus. By centering on the workplace, Memo could thrive where other apps have failed.
Founder Ryan Janssen tells Quartz that the app had 10,000 users in a private beta test, and that many early adopters already have added Memo to their daily routine.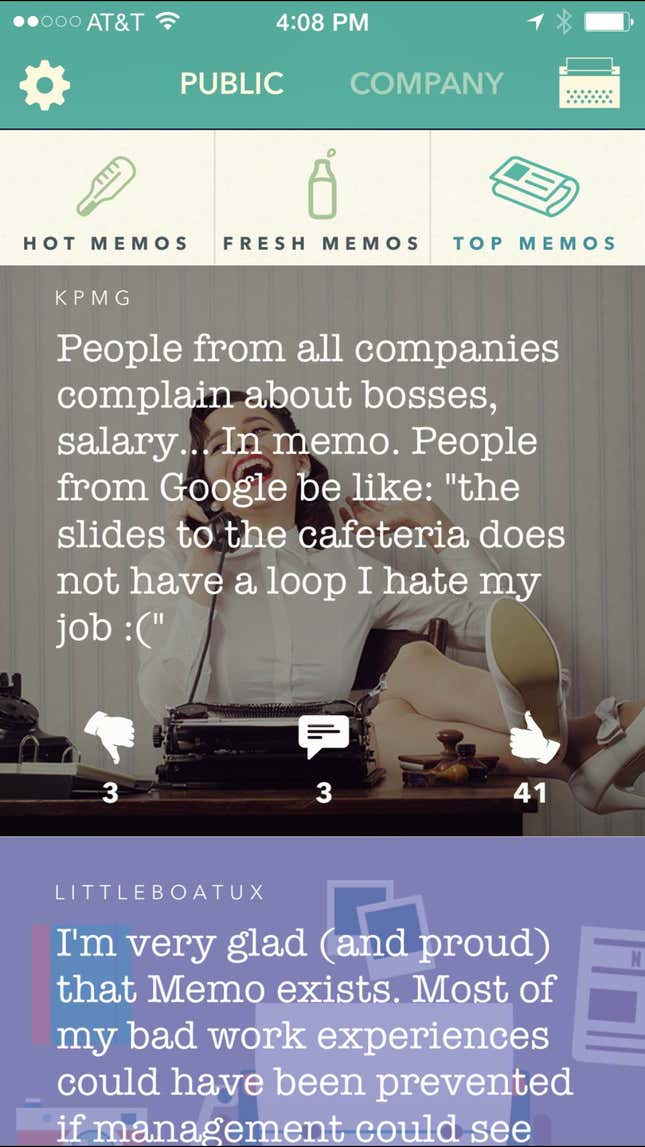 Memo users have to verify their affiliation with a company before they're allowed to post in a company group. Janssen calls this "defined identity" rather than anonymity—users either have to connect their LinkedIn account or have an email sent to their company email to be verified, but then Memo deletes any identifying information, and users can post anonymously to their company group.
It seems that having a topic to rally around is a unifying factor for anonymous apps. One of the few other anonymous message-board apps with a growing audience is Yik Yak, which is targeted to users on college campuses. It has proven popular, albeit controversial, among students.
Janssen says there has already been some pushback from companies over Memo. He's received two cease-and-desist letters, two companies have blocked emails from Memo hitting their servers, and three companies have written memos to employees about the app.
Janssen says Memo is supposed to be a release for office workers: "We walk into the office with a largely constructed facade. That's exhausting and we're giving people a place to just be their real selves."
The app's privacy policy says there is nothing it can do if a person is identified, but tells users: "don't be mean."
Whether Memo will prove to be the Yik Yak for adults—or the Slack for workplace gossip—remains to be seen. Companies are unlikely to tolerate an app that allows anonymous individuals to taunt or berate other employees with malicious posts; if enough companies find reason to steer their employees away from the app, this could hinder Memo's growth—but only if enough of their employees take heed. And that would require that they ignore the basic human tendency to engage in trash-talk about colleagues.
"What we've found is that people actually want to like their company," Janssen says. "They just don't like feeling powerless."