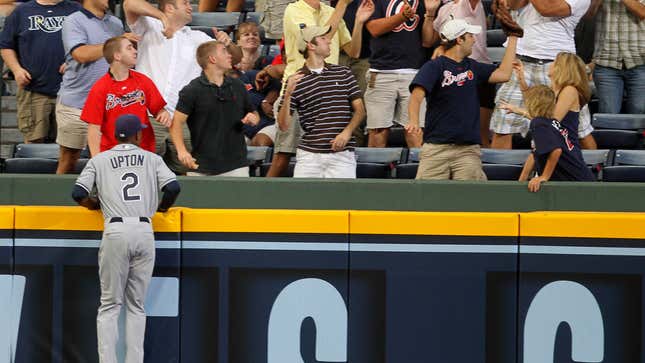 Athletes aren't economic indicators, but we can get yet another take on the fiscal cliff thanks to public interest in sports wheeling and dealing.
BJ Upton, the talented Major League Baseball outfielder, just signed a $75.25  million deal to play for the Atlanta Braves in the next five years. That's a lot of money, even spread out over five years, and it comes with an unusual provision—a $3 million bonus to be paid before Dec. 31, 2012.
The date is a giveaway: If Jan. 1 arrives in the US with a government plan to avoid the fiscal cliff, or if President Barack Obama has his way and resets tax rates on the wealthy to Clinton-era levels, getting paid a day early will save Upton $120,136.
Maybe that doesn't sound like a lot of money for someone scheduled to receive a salary of $12.45 million next season, but it's more than twice as much as the average American earns in a year. Someone in Upton's coterie of agents, lawyers and accountants has an eye on the US's upcoming austerity trigger.
Corporate executives might be jealous: Even if they'd like to accelerate their bonuses into this year to avoid the same tax hikes, the political and practical impediments are too numerous.
Investors are watching, too. Besides income rates, capital gains and dividends are set to bump up, too. There are already a record number of special dividends set to pay out. And, regardless of the limited initial affects of the austerity policies that will come into play in 2013, market watchers expect stock sell-offs if a deal doesn't look promising by Christmas, as investors seek to book capital gains under 2012's lower rates. After all, they can—and likely will—resume their positions if there is a deal in the New Year.