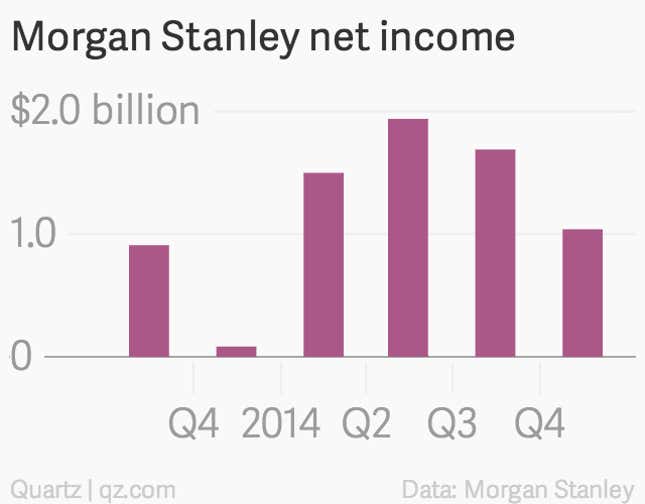 Morgan Stanley posted fourth-quarter results today.
The numbers: Lukewarm. Morgan Stanley said profit rose to $1.04 billion in the fourth quarter from $84 million the year before. Revenue fell 1% to $7.76 billion.
The takeaway: Morgan Stanley joined JP Morgan, Citi, and other big US banks in posting lackluster financial results as it still tries to push through what it called "residual issues from the financial crisis."
Despite continued legal costs, as well as a downturn in trading revenue from fixed income, commodities and  currencies, the bank put a rosier tone on the future. It said it was counting on the continued improvement of the US economy, as well as a rise in interest rates, to boost future revenue.
What's interesting: Morgan Stanley's shareholders may not be as happy as its employees, who are now getting paid more of their bonuses upfront rather than having to wait for deferred compensation. In the most recent quarter, the bank's compensation expense rose by 28% to $5.1 billion from the year before, as it changed the way it doles out pay. Coming out of the financial crisis, it had deferred up to 100% of employee bonuses but is now "working our way to 50%," the bank said Tuesday. When asked whether the pay change was in response to rising pay at private equity shops and other financial firms, CEO James Gorman said he wasn't concerned competition for talent. "Frankly, it's not an issue," he said.