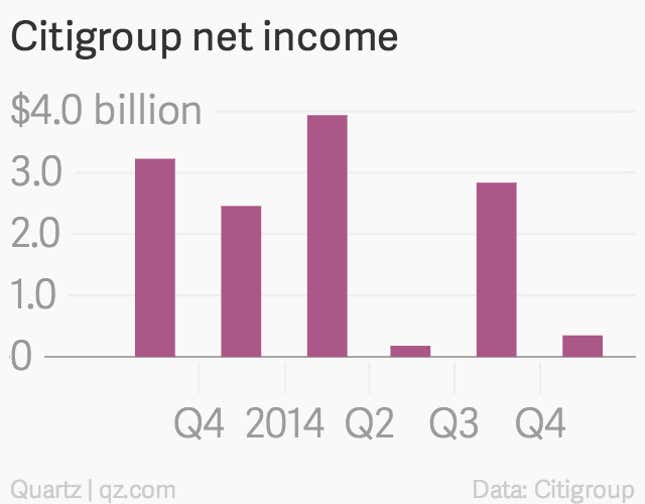 Citigroup posted fourth-quarter results today.
The numbers: Not great. Citigroup said profit tumbled 86% to $350 million in the fourth quarter from $2.5 billion the year before, as it recorded $3.5 billion in legal and restructuring charges. Revenue also fell 9% to $17.8 billion.
The takeaway: Citigroup is trying to clean up its global operations by shuttering businesses in a dozen countries, including Japan and Peru.  The mega bank is also spending billions of dollars to settle a string of legal claims related to government investigations into manipulation of currency markets and interest rates.  Not helping matters was a 16% drop in trading revenue from fixed income, currencies, and commodities.
What's interesting: Citigroup customers outside of the biggest US cities better get used to banking online. The number of Citigroup US branches have dropped by 14% over the last year. The bank aims to close hundreds of locations around the country and concentrate 90% of branches in Boston, New York, Miami, Los Angeles, Washington, D.C., Chicago, and San Francisco, where it can attract what it calls "high-quality deposits."