The numbers: Netflix finished last year with 57.4 million subscribers, up 4.3 million from the third quarter—its strongest subscriber growth all year. Fourth quarter revenue reached $1.48 billion, in line with what analysts were expecting and up 26% year-over-year. Netflix added more streaming subscribers outside the US (2.4 million) than in its home country (1.9 million) for the third quarter in a row.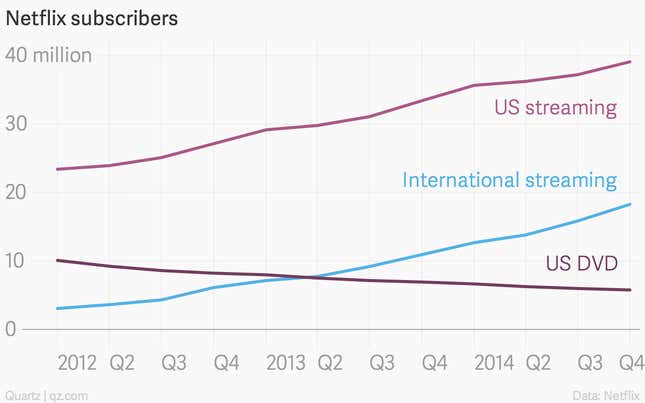 Netflix expects to pass 60 million members for the first time this quarter, finishing Q1 with 61.4 million subscribers worldwide.
The takeaway: Netflix's international expansion is starting to work. In the company's Q4 letter to shareholders (pdf), CEO Reed Hastings noted that overseas growth exceeded expectations, and the company is now expanding faster than previously anticipated:
Our international expansion strategy over the last few years has been to expand as fast as we can while staying profitable on a global basis. Progress has been so strong that we now believe we can complete our global expansion over the next two years, while staying profitable, which is earlier than we expected. We then intend to generate material global profits from 2017 onwards.
Australia and New Zealand are up next. Hastings says Netflix is still considering its options for China—"all of them modest."
"With the growth of the Internet over the next 20 years, there will be some amazing entertainment services available globally," Hastings wrote. "We intend to be one of the leaders."
What's interesting: Hastings no longer blames Netflix's US price increase earlier in the year for its slower subscriber growth. "We've found our growth in net [subscriber additions] is strongest in the lower income areas of the US, which would not be the case if there was material price sensitivity. Additionally, we implemented a similar price change in Mexico during Q4, and saw no detectable change in net additions."