This post has been corrected.
Gucci has officially put its creative direction in the hands of Alessandro Michele, a designer who has been with the brand since 2002, and with the Kering luxury group (of which Gucci is the flagship brand) even longer. He started as an accessories designer at Fendi after studying at the Accademia di Costume e di Moda in Rome.
Although Michele's first official show in his new role will be the women's fall 2015 collection in February, his hand was clearly visible in the romantic, androgynous direction of Gucci's fall 2015 menswear show in Milan on Jan. 19—reportedly a 180-degree design change his team pulled off in under a week.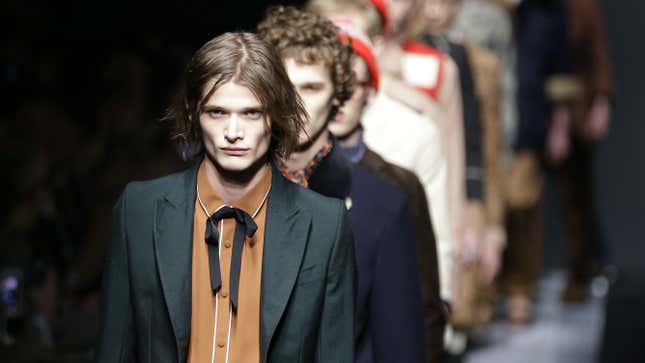 Gucci has a history of promoting from within, and of sticking with successful creative directors for a long time. Tom Ford led the brand through a sexually charged renaissance between 1994 and 2004, when he was replaced with not one, but three designers already at the company.
One of them was Michele's predecessor, Frida Giannini. (Like Michele, Giannini came to Gucci after designing accessories for Fendi, which is owned by luxury competitor LVMH.) After moving up through accessories and womenswear at Gucci, Giannini spent nearly a decade as creative director before the company announced her imminent departure in December.
In 2013, Gucci accounted for more than half of the €6.5 billion in revenue (pdf) generated by Kering's luxury division.
Correction (Jan. 22): An earlier version of this post incorrectly stated that Fendi was owned by Kering. It is in fact owned by LVMH.