Blurred gender lines are nothing new on edgier fashion runways. But earlier this week at Gucci's menswear show—a catwalk usually relegated to strong-shouldered suiting and square-jawed male models—androgynous looks took center stage.
And the spotlight at Gucci this season was stronger than it's been in years. After eight years at the brand's helm, creative director Frida Giannini abruptly left the company last week—a month sooner than planned when her imminent departure was announced in December.
Rather than completing the collection Giannini presumably began work on, Gucci's design team, led by accessories designer Alessandro Michele, reportedly rushed to redesign the clothing, re-cast all the models, and establish new creative direction for the brand in five short days.
What they came up with made a strong statement: Androgyny is in; traditional gender lines are out. Long-haired, fine-featured models—most male, some female—wore a collection that included foppish bow blouses, scarlet lace, and crop-sleeved coats.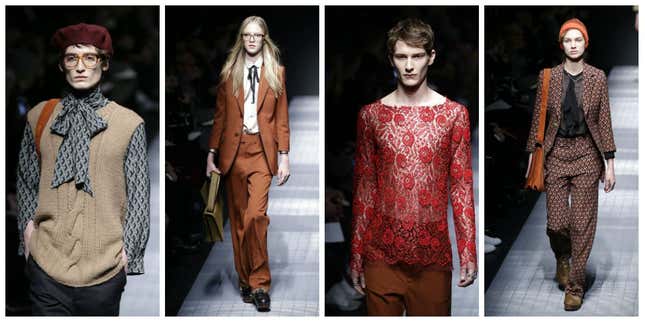 Michele is expected to be announced as Gucci's new creative director later this week, a powerful position that has greatly benefited from strong sexual statements in the past. During Tom Ford's tenure, between 1994 and 2004—which many have expressed nostalgia for of late—Gucci's image was famously charged, with campaigns featuring glossy-skinned men and women expressing power that had everything to do with sex, sex, sex. (Perhaps you remember the "G" shaved into model Carmen Kass's pubic hair.)
Michele's statement on sexuality is notably more romantic.
"A dreamy ambiguity pulsates throughout," Gucci stated, in a press release about the collection. Whether that will apply to Gucci's women's show in February—and if men will buy into Michele's new vision for the brand—remains to be seen.
The day before Gucci's show, Miuccia Prada also raised questions about gender at her own, which included Prada's fall 2015 men's collection along with women's pre-fall looks.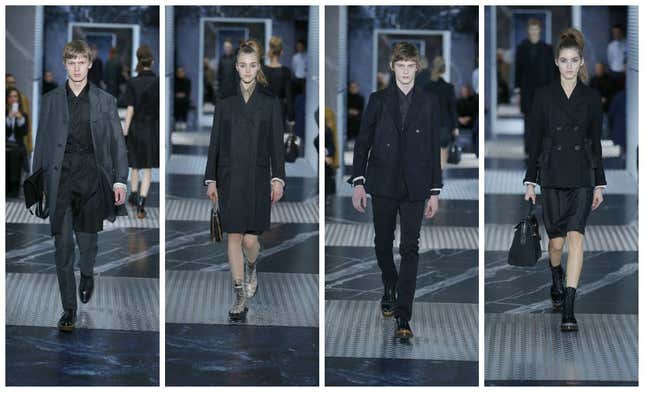 The designer distributed a printed "manifesto" to each guest, raising questions about the role and relevance of traditional gender definitions in fashion.
Putting the gender conversation on the runway, a conversation that's at the heart of LGBT and feminist causes, is the "perfect moment to analyze this subject more deeply to measure what the genders share, what they take from each other," Miuccia Prada said in a press release accompanying her presentation.