This time of year, the old song, "It's beginning to look a lot like Christmas," plays in my head, but I've changed the word "Christmas" to "pre-fall." It's the only way I can remember what season designers are showing now. It's one that, on most peoples' calendars, doesn't really exist: pre-fall.
And the clothes lend little clue. Pre-fall 2015 so far includes shaggy capes, slinky slip dresses, seersucker shirt-dresses, floral ball gowns, leather skirt suits, gauchos galore, and lots of fantastic coats.
Although pre-fall's disjointed worldwide series of quieter shows and appointments pales by comparison to the city-by-city spectacle of the spring shows (in September) and fall (in February), it represents major earning power for retailers and designers.
That's because like resort (another made-up season), pre-fall stays on retailers' racks for much longer than the fall and spring collections. They're transitional, wearable collections that keep stores looking fresh between the flagship seasons of spring and fall. However dubiously named, pre-fall and resort have about double the time to sell before being marked down and moved out of stores.
The chart below shows the approximate months each season's collections sell at full price.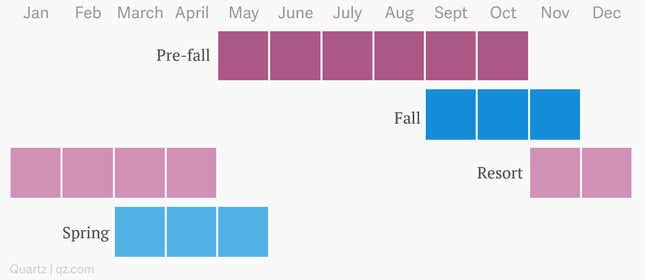 It also shows why fashion people can't just call pre-fall "summer" like the rest of us do. With that extra time to hang in stores comes an added pressure for pre-fall collections: They have to get us through the widely varying weather between May and October. (In some cases, as Vanessa Friedman notes, designers also must serve another season irrelevant to most of the world: awards season.)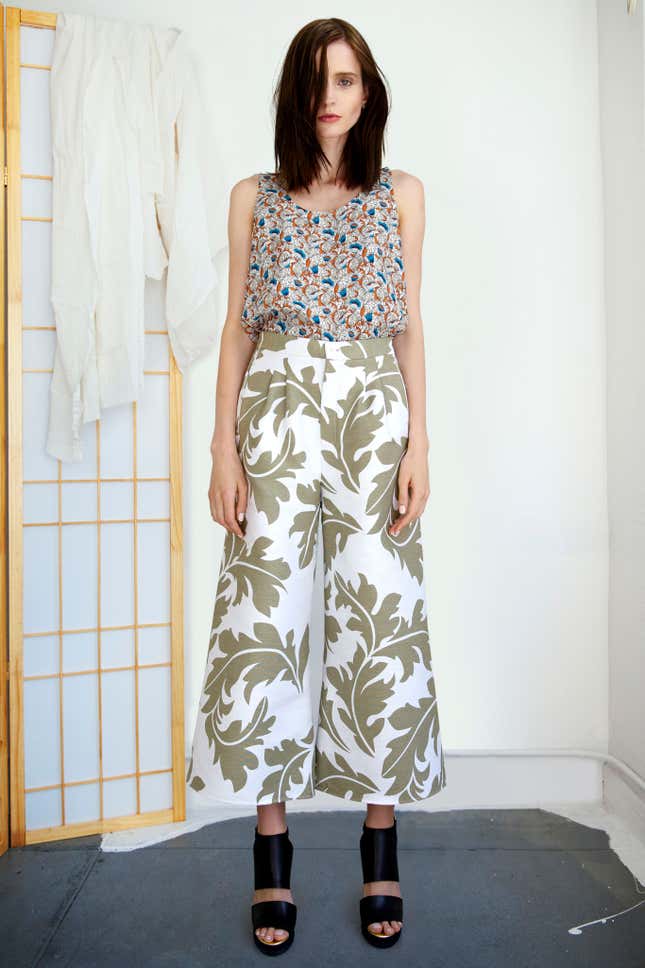 As the fashion industry globalizes and serves disparate climates (see: Chanel does Dubai) on both sides of the equatorial divide, the seasons as it defines them are increasingly irrelevant. For some time, the fashion calendar hasn't been serving actual customers, as anyone who has ever tried to buy a swimsuit in August—as I documented on video—or snow boots in February can attest. (Not to mention the pressure it puts on designers, who just showed major collections in September.)
Fast fashion has stepped in to fulfill demand for what the industry calls "buy now, wear now" clothing, and the widely varying offerings shown during the pre-fall collections show that designers are responding to that too. Many of these pieces lend themselves to layering, a key for transitional seasons.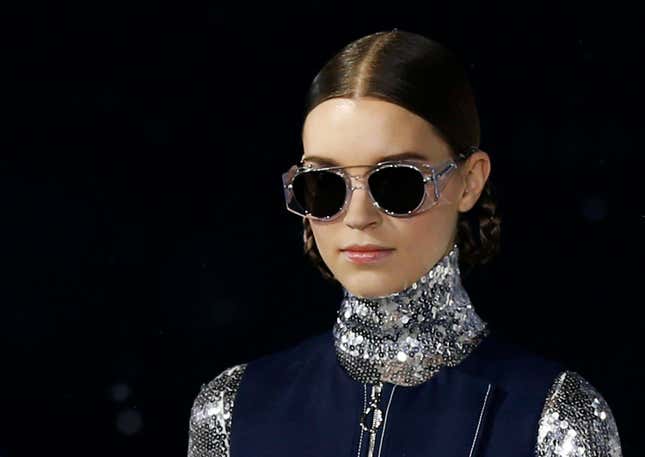 Some designers, such as the New York-based Carin Rodebjer, emphasized the summery side of pre-fall—while Raf Simons' runway at Dior in Tokyo appeared to be sprinkled, confusingly, with snow flakes.
He sent out sequin-covered turtlenecks that would be perfect for this weekend's slew of holiday parties, but I suppose they'll have to wait for next year. 'Tis not yet the season.