Karl Lagerfeld yesterday debuted Chanel's Resort 2015 collection on an island in Dubai.
A bit of a caricature himself, Lagerfeld is known for courting controversy by referencing local customs in hyperbolic fashion (see: Chanel does Dallas.) Yesterday's show was no exception. There were hookahs, artificial palm trees, and what appeared to be traditional Moorish latticework—which, upon closer examination, was revealed to be comprised of the brand's trademark interlocking Cs.
The clothing, too, nodded in an emphatically clichéd way to the Arab environs, with a great many harem pants, the Dubai skyline rendered in sequins, and crescent-moon hair adornments. (Those too found their way into interlocking Cs.)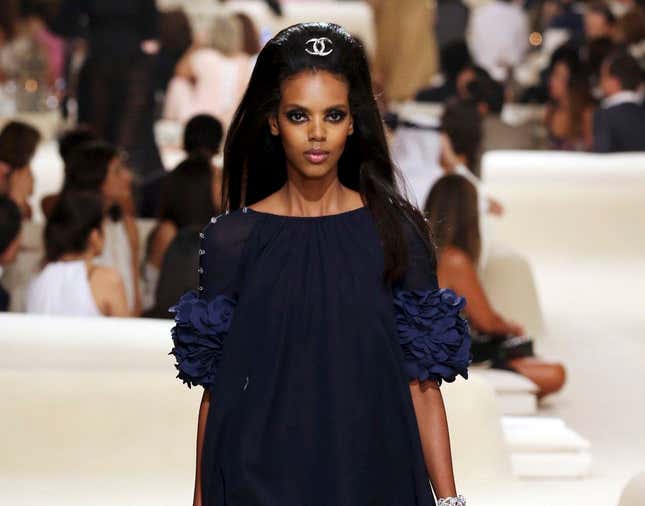 But perhaps most noteworthy was how conservative the clothing was. Sure, the odd knee or shoulder was exposed, but much more impactful were the abayah-style layers.
Was this Chanel's nod to sharia, one of the primary sources of law in the United Arab Emirates, which, according to some interpretations, requires that women in public be covered from head to toe?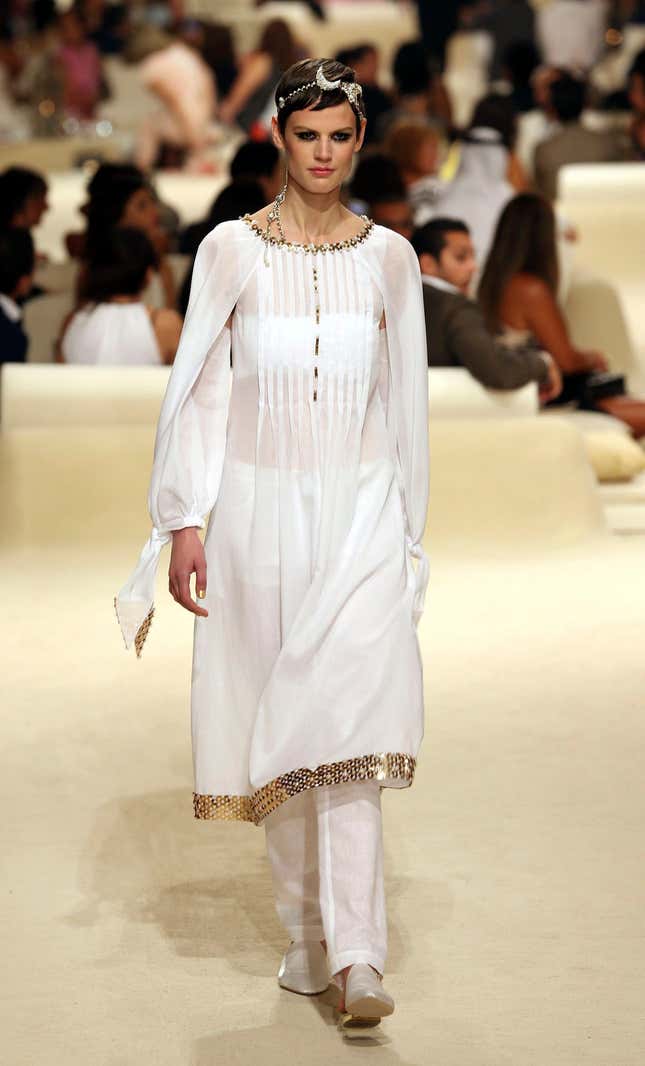 If so, it was a wise one, since—as noted recently by the Business of Fashion—western fashion labels are missing out on a massive Muslim market.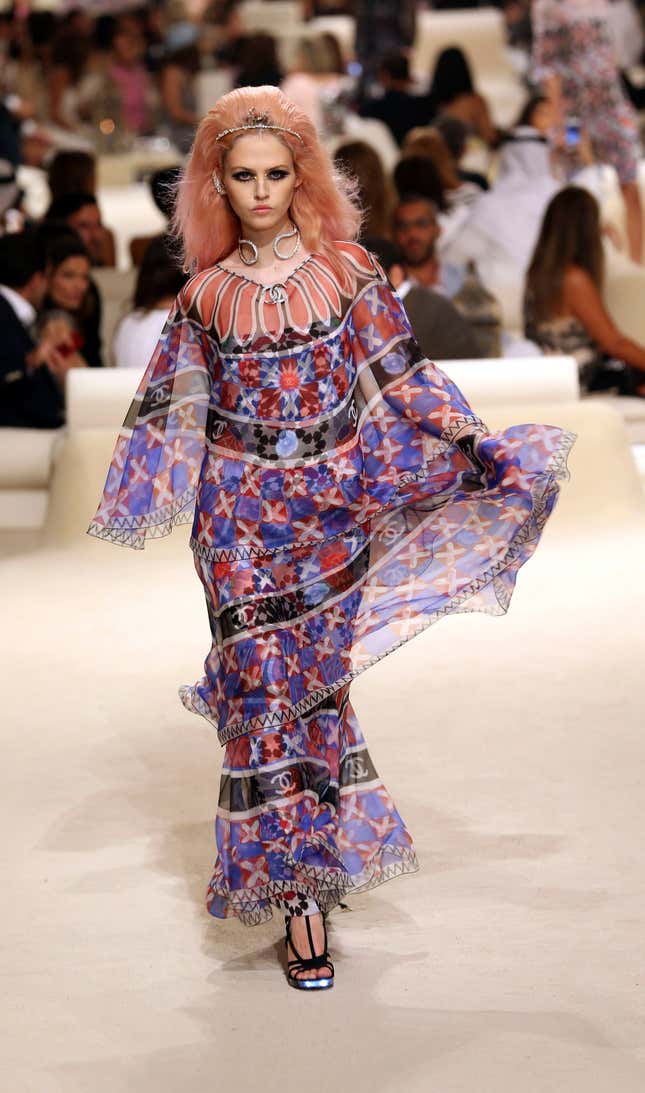 Lagerfeld called the collection his "romantic, modern Orient, a new One Thousand and One Nights." But his inspiration, as asserted by the Independent, could well be simple economics: it probably will sell in the Middle East. So long as no one was too put off by the quilted gold gas can—a purse that was an obvious acknowledgment of the Gulf's natural resources.
"A lot of people really got offended," said Deena Aljuhani Abdulaziz, who owns D'NA, a high-end boutique with locations in Riyadh and Doha, and attended the show. "Some people in this region were definitely not amused that he had a bag that looked like an oil dispenser. Money in the gulf comes from oil obviously, so they thought it was a bit of a Beverly Hillbillies situation."
For her part, Abdulaziz thought it was one of Chanel's strongest recent collections. "I liked that he respected the modesty," she told Quartz. "Short dresses don't make sense in Riyadh." Among her favorite looks was a caramel-colored dress that model Joan Smalls wore over slim pants. "I thought that was very rich and beautiful, but at the same time very modern," she said. What's more, she's considering an order for D'NA.