Paris Fashion Week has officially wrapped, and so has the Spring 2015 "Fashion Month," which included stops in New York, Milan, and London. Many fashion editors and buyers undoubtedly feel like model Coco Rocha, who dramatically "fainted" at Jean-Paul Gaultier's finale (pictured above).
At Quartz we found watching Paris Fashion Week from afar both indulgent and stimulating, albeit at times in a nauseating way—like a plate of pommes frites washed down with a flute of champagne.
Here are some of the moments and trends we think deserve a second look.
1. Paris Fashion Week's original enfant terrible stepped down
Jean Paul Gaultier—he of Madonna's cone-breasted corset, many mariniere-themed shirts and dresses, and all-around eighties and nineties-era fabulosity—will stop creating ready-to-wear after the Spring 2015 season, and concentrate on couture, his perfume business, and special projects.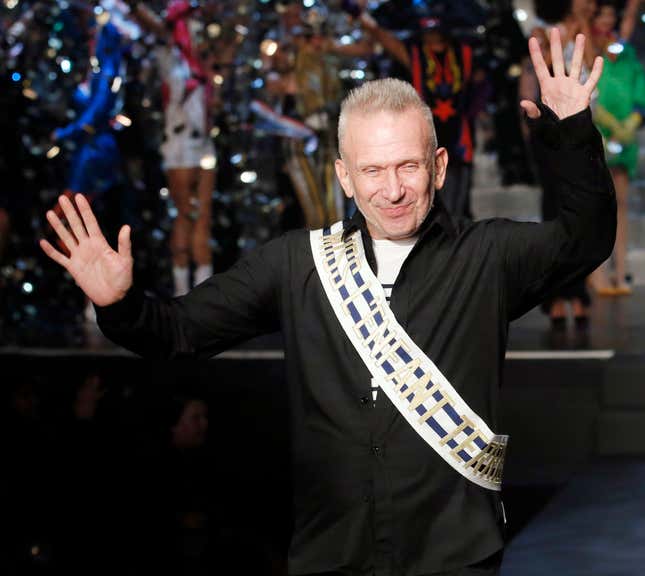 "Commercial constraints, as well as the frenetic pace of collections, don't leave any freedom, nor the necessary time to find fresh ideas and to innovate," the designer told WWD.
As the New York Times' Vanessa Friedman noted, it's much the better for Gaultier—one of the industry's greatest creators and provocateurs—to scale back now rather than to suffer a breakdown on par with John Galliano or the late Alexander McQueen. Now we'll look forward to his couture shows even more.
Also fun: Gaultier sent out models as doppelgängers of editors who supported him throughout his career. Here are US Vogue creative director Grace Coddington and Suzy Menkes, formerly of the International Herald Tribune and now at British Vogue.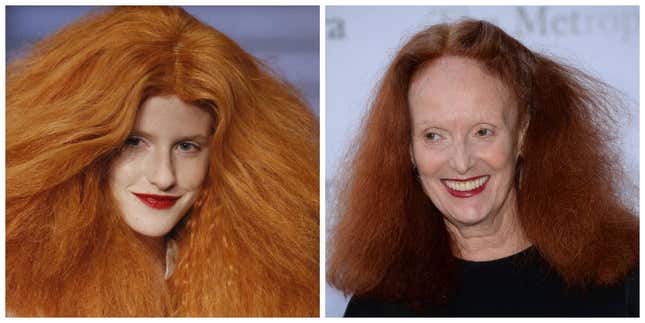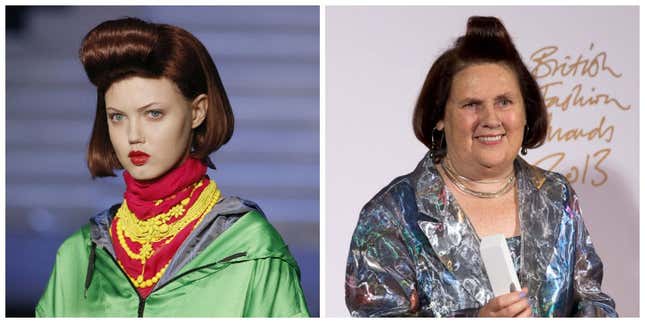 2. Actual grown-ups walked the runway
Grown women didn't just inspire some looks on the runway, they appeared on runways themselves!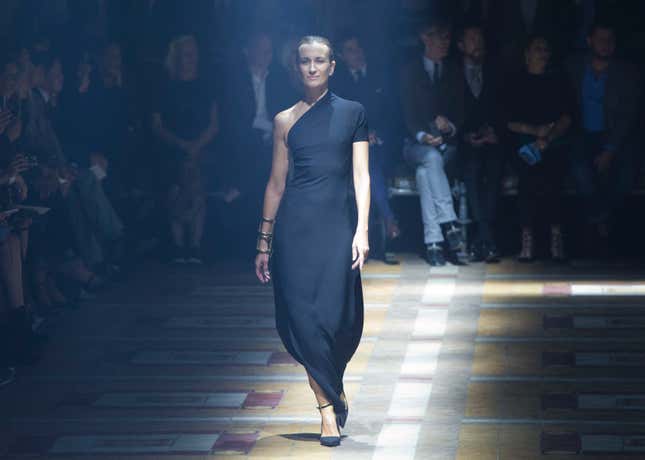 According to the Cut, more than 20 models over the ripe old age of 30 (which is old, for a model) walked in this season's shows.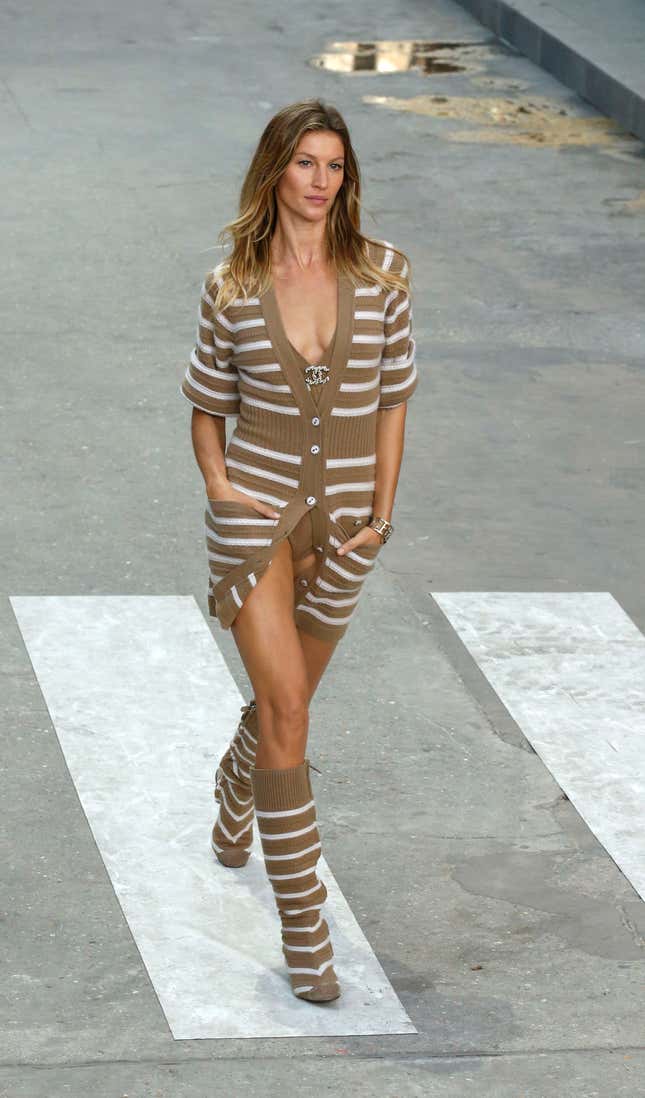 Ten of those ladies appeared at Lanvin alone, where designer Alber Elbaz told Style.com they required less makeup than their younger counterparts.
Chanel got in on the game too, putting notable geezer Gisele Bündchen, 34, in a senior-appropriate short-sleeved creamy coffee-colored cardigan…with no pants.
Pants or no, it seems a wise move for labels like Lanvin and Chanel to put their clothing on adult women, since they are likely to be the customers.
Denim has a long history with France. The fabric's name most likely originated from serge de Nîmes—a reference to its origins in the city of Nîmes in southern France. So leave it to Paris-based designers like those at Veronique Branquinho and Chloé, whose models wore denim-on-denim, to debunk the sartorially tragic assertion that yoga pants could replace blue jeans.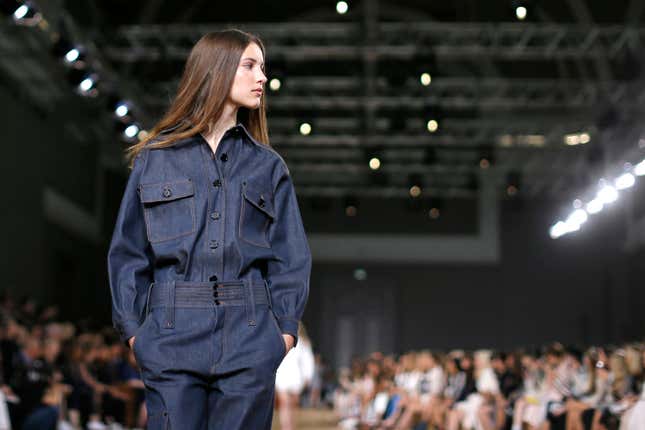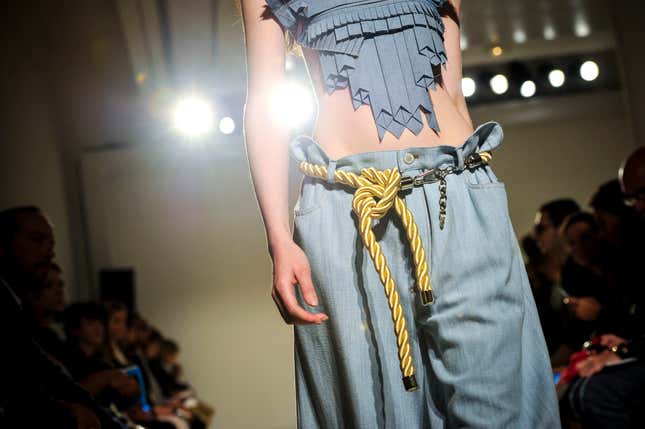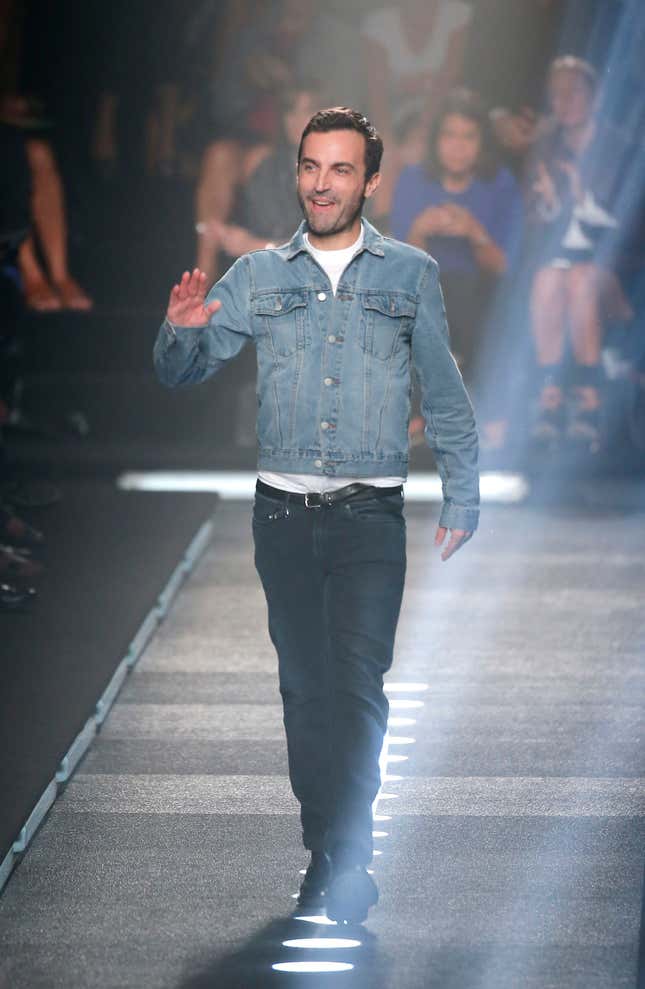 After the Louis Vuitton show, where denim also appeared, creative director Nicolas Ghesquiere took his bow in the favorite outfit of French exchange students everywhere: a jean jacket and jeans.
4. Except for one problem
When Quartz tech editor Dan Frommer packed for Paris last week, he naturally wanted to bring his favorite French-designed jeans, by APC. But when he went to put his new iPhone 6 Plus in his pocket—Sacre bleu!—it didn't fit. (If you find this issue compelling, here is some extensive reading for you.)
At APC's Fashion Week presentation on Tuesday—where Frommer was forced to wear Uniqlo jeans to accommodate his 6 Plus—he asked the brand's founder and creative director, Jean Touitou, whether he was considering altering the pockets on APC's dungarees for iPhone devotees.
"I don't really care," Touitou told Frommer, quite Frenchily. "I'm not a nerd. I'm a nerd with literature, not with iPhone, even if I have one. It's a very useful tool. But I don't understand that religion."
Perhaps an Apple Watch would alleviate some of the need for a giant phone? It's hard to tell without trying it on—which attendees at an Apple Watch viewing party at the concept store Colette did not get to do, as Frommer reported (still in those Uniqlo jeans).
5. Karl Lagerfeld staged a fake feminist rally—but the real power dressing is at Céline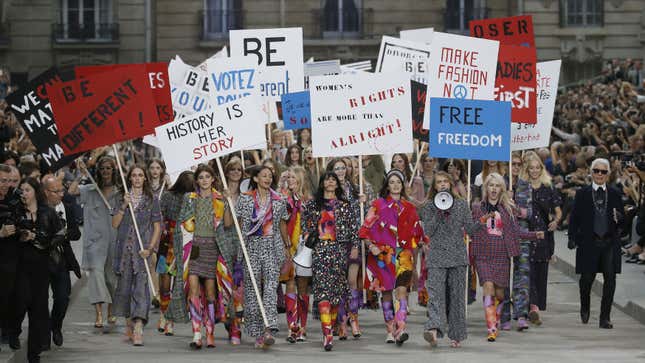 Chanel creative director Karl Lagerfeld loves to make a scene, and his his finale staged to resemble a feminist rally was no exception.
The co-opting of second-wave feminism rankled some, while others (moi) found it to be a timely acknowledgement that female empowerment is, as always, in fashion.
That said, fashion-loving feminists know when it comes to power dressing, Céline designer Phoebe Philo trumps Lagerfeld, sans contest.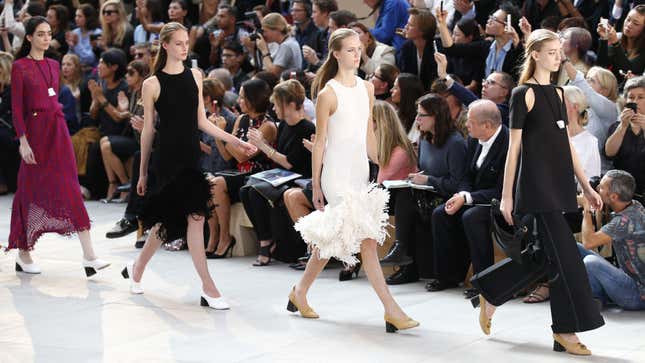 Her show this season opened with Kate Bush's chill-inducing ballad, "This Woman's Work." Here it is on Spotify, where I listened to it as I watched a slideshow of the Céline collection at Style.com. (Immersive!)
Philo's understanding of what stylish, smart, and uncompromising women want to wear has earned her a deeply devoted fan-base. Some apparently call them Philophiles.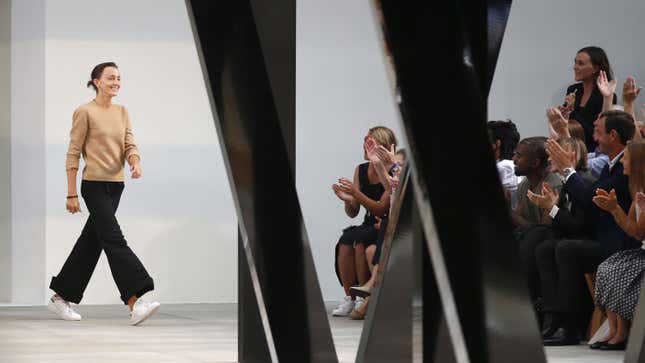 And for a feminist role model, you could do a lot worse. Philo not only designs beautiful clothes for busy women, her career management is inspiring to many who strive for success and satisfaction at work and at home: building a mind-blowing business, bowing out for maternity leaves on her own terms, and moving Céline's design headquarters from Paris to her home in London.
6. The Kardashians achieved total infiltration
Baby North West traveled to Paris for Fashion Week, where she sat in the front row at the Balenciaga show with her parents, Kim Kardashian and Kanye West. They appeared many, many more places during the week, as did Kardashian sister Kendall Jenner, who was there for work. (She's a model.)
The Kardashian's Parisian invasion comes with the help of a powerful ambassador: the Frenchiest of the French editors, Carine Roitfeld.
Despite her sharp-heeled, pencil-skirted, smoldering look, Roitfeld is warm and loyal to those close to her, and seems to have taken Kim under her wing after putting her on the cover of her magazine, CR Fashion Book, last year.
Even Kardashian mom Kris Jenner was at Roitfeld's birthday celebration Tuesday night. But another mother-daughter combo felt omnipresent in the Paris collections…
7. Jane Birkin and Charlotte Gainsbourg were everywhere—not in a Kardashian way, but in spirit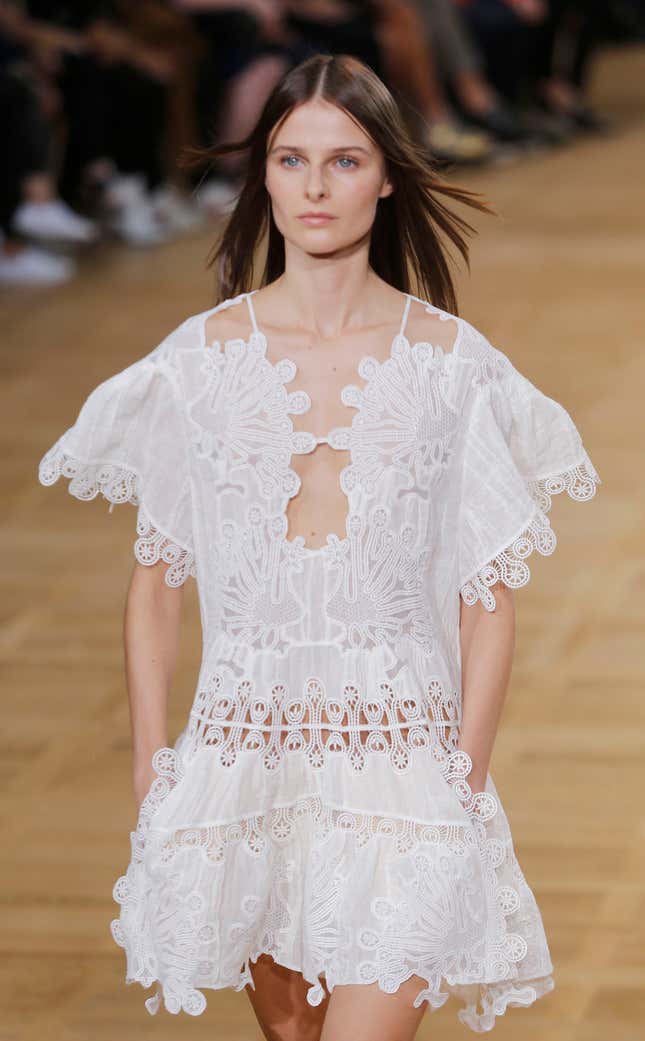 Jane Birkin became a beloved style icon for her insouciant, minimal, post-hippie style during her well-documented relationship with French singer Serge Gainsbourg in the sixties and seventies. (Seriously, those bangs.) It's well-trod fashion territory, and those lacy white minidresses, high-waisted jeans, and center-parted locks marched the runways again this year—most notably at Chloé and Louis Vuitton, but also at Valentino and even Chanel.
Where the look came across a bit darker and more rock and roll—see: Givenchy, Saint Laurent, and, again, Louis Vuitton—one could easily picture Birkin's daughter, Charlotte Gainsbourg, wearing the clothes.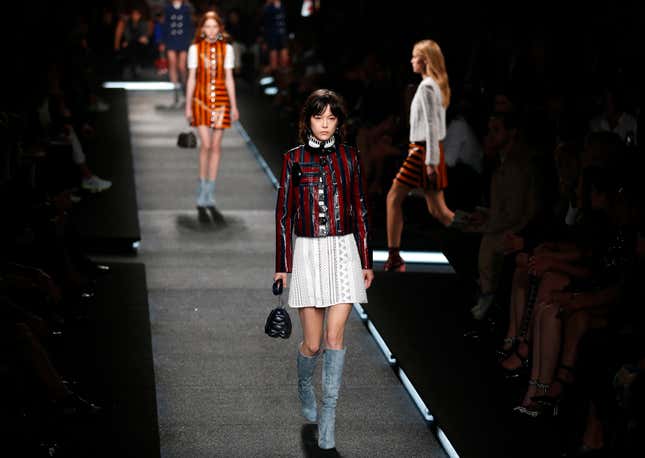 And it's likely she will; Gainsbourg stars in Louis Vuitton's current ad campaign.
8. By the time they got to Paris, models were pooped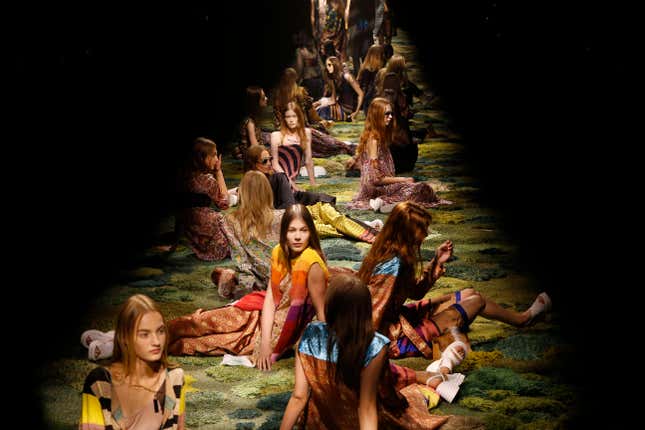 When models walked in Dries Van Noten's show, Fashion Month was already a good 20 days in. So it was nice of him to stage a finale that involved reclining on a plush rug that resembled a verdant, mossy forest floor.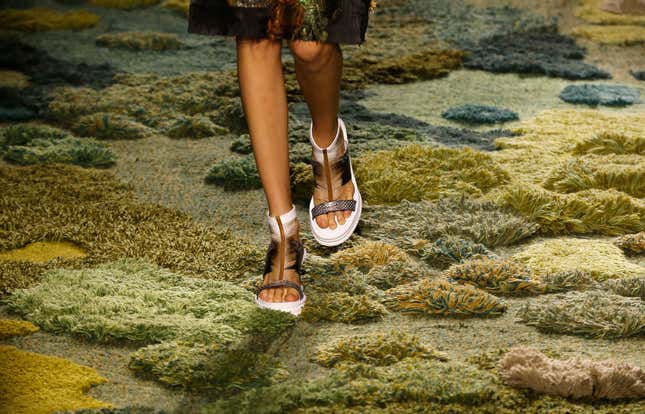 The rug was an exceptional creation by Argentinean artist Alexandra Kehayoglou, and you can see some quick takes of the process here:
Models laid down in flowing gossamer and kimono-like toppers that looked equally suited for celebrating or napping. At this point, we could go either way.