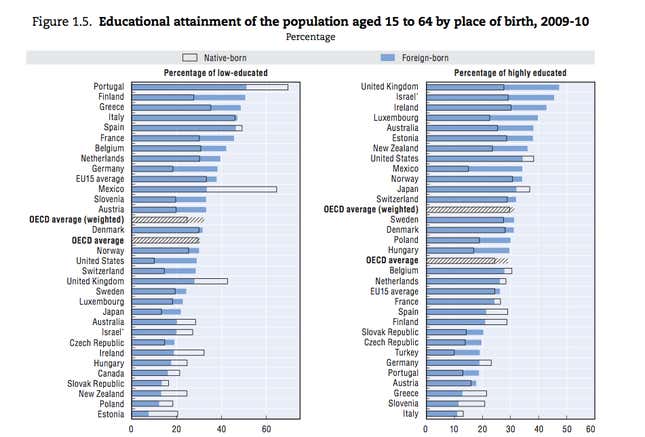 Canada, Ireland, Israel, Luxembourg, and the UK top the list of OECD countries with the highest share of immigrants with university-level degrees—ranging from 40% in Luxembourg to 52% in Canada. A study out today by the Organisation of Economic Co-operation and Development (OECD) says that in these five countries, higher degrees are substantially overrepresented among immigrants as compared to native-born people.
On the other side of the spectrum are immigrants in southern Europe and Turkey, where the majority have less education. Immigrants at the lower secondary school level account for more than 45% of all immigrants in France, Spain, Italy, Greece, Portugal, Finland, and Turkey.
Countries that actively recruit highly skilled migrants as part of their immigration policies—such as Australia, Canada, Denmark, Germany, the Netherlands, and the UK—have seen that strategy pay dividends. The percentage of university-educated immigrants dramatically increased between 2000 and 2010 in these countries. Meanwhile, southern European countries (and Ireland) have seen the percentage of university-educated immigrants decline the most.
Other highlights:
Austria, Belgium, France, and Spain scored poorly when it came to getting immigrant children into the labor market or into education or training programs. The study suggests that children fare better if they enter a new country before the age of six when they can enter school and quickly learn the local language.
Educated immigrants, not surprisingly, have a better chance of getting jobs, and boosting employment. The report shows that over the past decade employment rates for immigrants have risen in nearly every country to reach an average of around 65%, just 2.6 percentage points lower than for the native-born people.
The employment rate of immigrants in Germany rose to 64% in 2010 from 57% in 2000, and to a little more than 66% in the UK from 64% in 2010.
Job rates among immigrants have declined only in countries hard hit by the crisis—in the US to 67% from 70%, and in Spain to 57% from 62%.