The northeastern US is shutting down as a potentially historic snowstorm descends. New York City mayor Bill De Blasio has banned non-essential travel after 11pm Jan. 26—and that includes "food delivery bicycles." Even with impending the ban and the falling snow, some delivery startups like Postmates and Seamless appear to still be open for business.
Quartz has rounded up how different startups are coping with the snow:
Shyp: closed at 5pm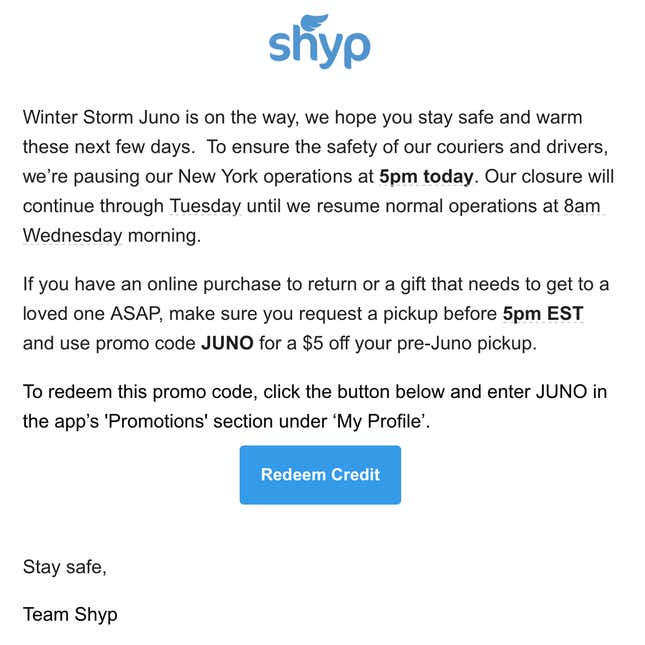 With more than 3,5000 flights canceled and roads closed across the Northeast, it shouldn't really come as a surprise that shipping startup Shyp suspended service this afternoon. The company's email to customers suggests it'll be back up and running on Wednesday, even though the state of New York is expecting power outages and flooding issues that "could last for days."
WunWun: closing at 10pm
The same-day delivery service is staying open until this evening. New Yorkers who still want WunWun to bring them things expect to get the flu or perhaps are preparing for a snow day hangover—it's hard to tell from the list of things they're buying today.
Postmates: still open
Postmates has no warning messages on its app as of publication time, and did not respond to Quartz' request for further information. Perhaps everyone is snowed under in emails.
Instacart: still open, sort of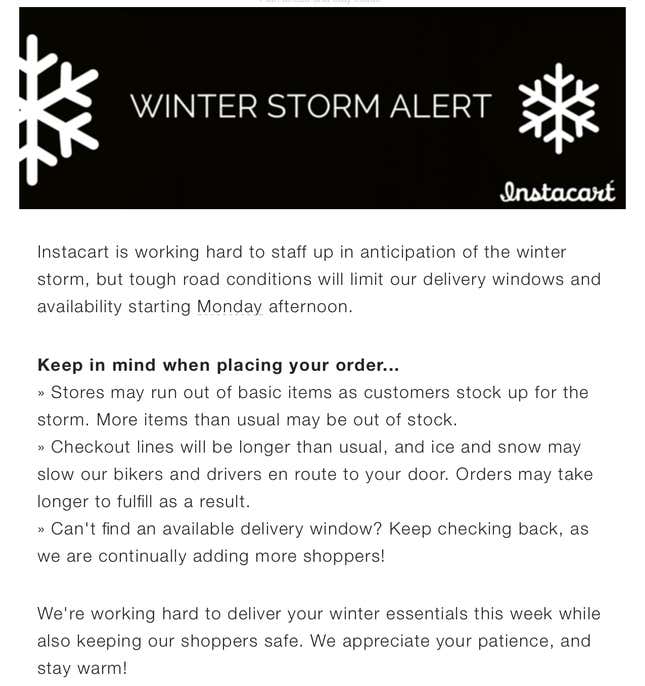 Instacart, the grocery delivery startup, emailed its customers earlier to say it "is working hard to staff up in anticipation of the winter storm," but reminded customers that grocery stores may well be out of what they need.



While Instacart's service is still available, a quick check of the windows for delivery from the supermarkets closest to Quartz' office show that the next available slots aren't until the afternoon of Jan. 28.
ZipCar: still open, for now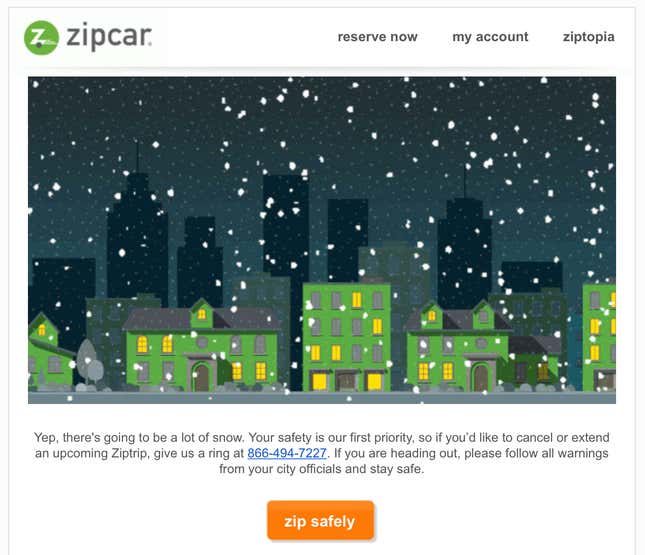 The car-sharing service reminded its customers that it's snowing, a message no doubt geared toward those who had a reservation coming up but hadn't checked out the weather conditions, read the news, checked Twitter, or looked out a window.
Uber: still open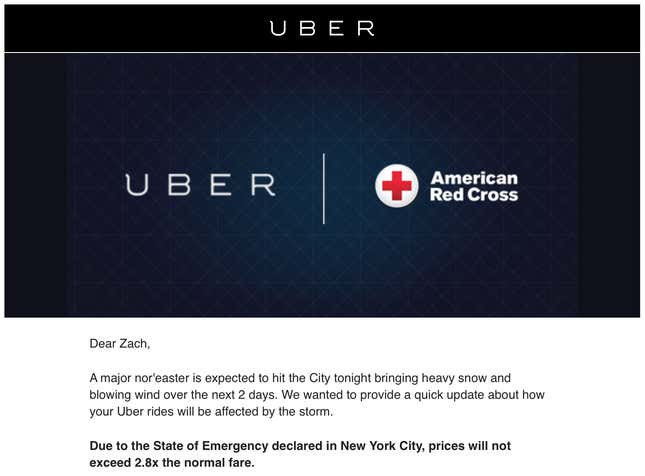 After gouging customers during Hurricane Sandy, saying it wouldn't gouge as much any more, then gouging people in Australia during a hostage situation in Sydney, and then apologizing for it, Uber has announced that it will cap any surges in prices during winter storm Juno to 2.8 times its base fare. It also said that destinations will be limited, trips will take longer, but take heart—the company will be making a donation to the American Red Cross on your behalf.
Seamless: still open
So far, this is all that Seamless has officially said about the weather:
Seamless' subsidiary GrubHub told Quartz that the decision of whether to stay open is up to individual restaurants, and drivers are required to act safely when delivering meals."These food heroes are braving heavy snow, strong winds and frigid temperatures to ensure diners can still enjoy their local favorites from the comfort of their warm homes," a GrubHub spokesperson told Quartz.
Amazon Prime Now (earlier): open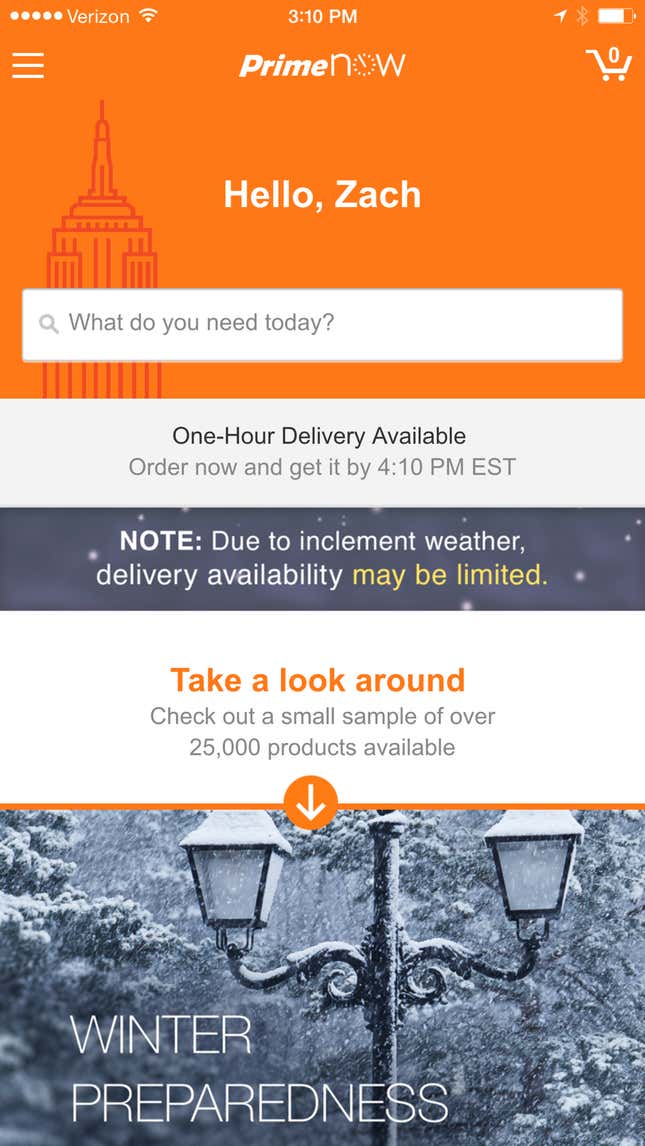 Good old reliable Amazon. The company's Prime Now delivery service is staying open through the storm. Amazon is even promoting "winter preparedness" products so you can be as prepped for the storm as Amazon itself appears to be. Plus, Amazon.com has a deal on jumper cables today, in case there's something you can't get from Prime Now and you need to venture out into the tundra.
Amazon Prime Now (now): oh no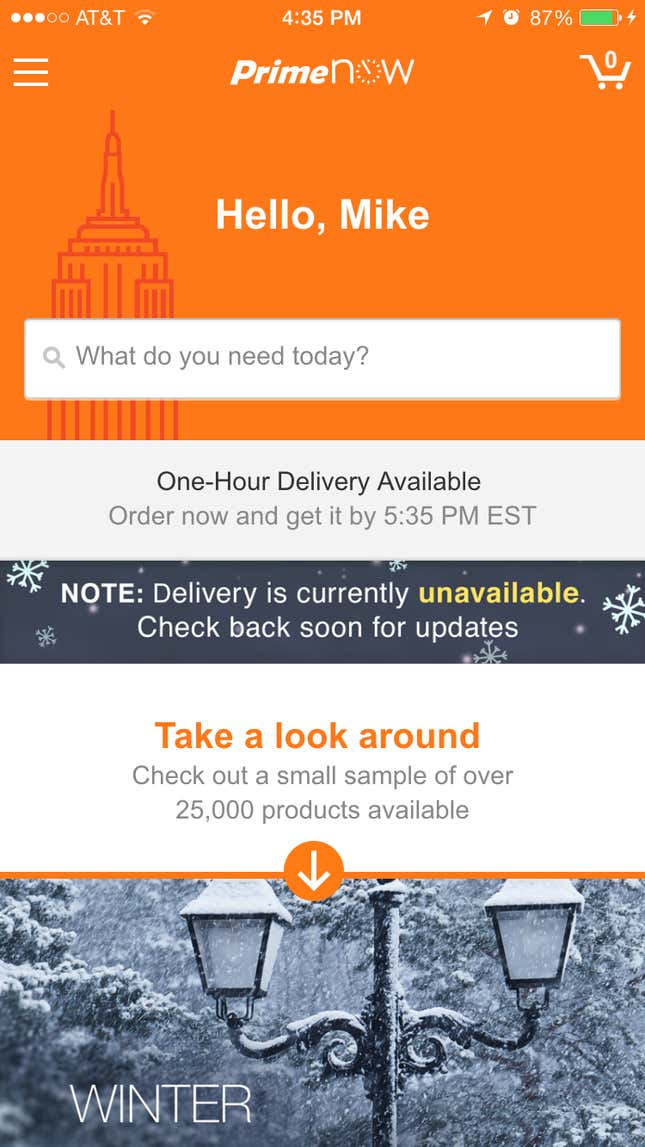 So much for that.