Apple's amazing growth spurt earlier this decade set it up to become the most valuable technology company on the planet. A slower growth period followed. But when Apple announces its fiscal first quarter results today, it is poised to step on the accelerator once again.
Analysts, on average, expect Apple to report December-quarter sales of $67.5 billion, up 17% over the prior year. That would be Apple's largest percentage increase in two years, since it grew 18% in the December 2012 quarter.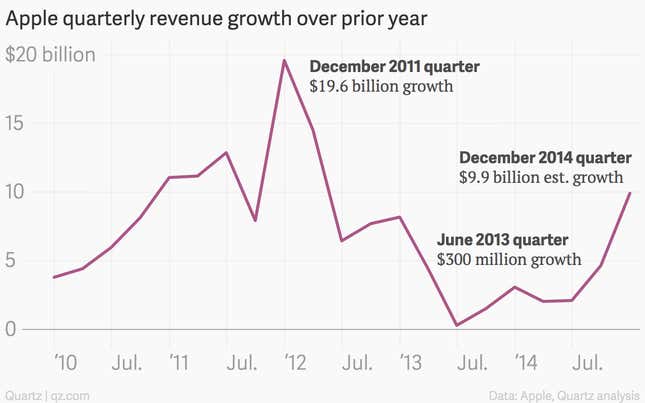 What's driving Apple's growth? One word: iPhone.
Some analysts predict Apple could report more than 70 million iPhone shipments for the December quarter, which would be its biggest ever, by almost 20 million units. Indeed, the iPhone—which typically represents more than half of Apple's overall sales—leads the company's growth almost every quarter. The Mac, which was shrinking for a while, is now bouncing back, and could set another sales record today. The iPad, on the other hand, has recently been a disappointment.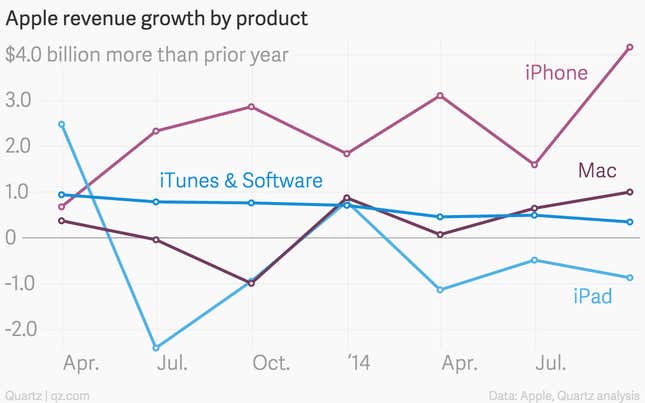 What about the other big Apple word these days: China?
We'll see how things shape up this quarter. The FT cites analysts who think Apple will report more iPhone sales in China this past quarter than in the US. The Americas region led Apple's growth in the September quarter, while China sales growth has been uneven—especially due to a regulatory delay in the roll-out of the iPhone 6 and 6 Plus. (It'll be particularly interesting to see how this changes when Apple starts including its retail sales within its geographic regions, instead of as a separate segment, starting this quarter.)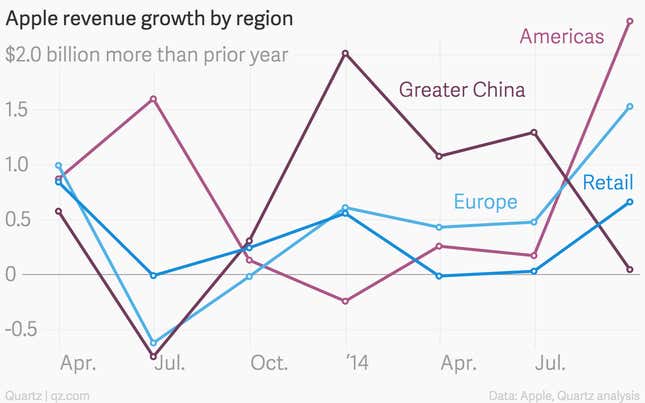 As for Apple's earnings report today, the most important thing to watch is its sales forecast for the current, March quarter. Everyone is expecting a huge Christmas—but does Apple expect the iPhone's momentum to last? Will the Apple Watch play a role?
The analyst consensus estimate for March-quarter revenue is around $53.7 billion, which would represent roughly 18% year-over-year growth—another solid performance.