In the battle for China's vast universe of internet and smartphones users, Alibaba is deploying a new weapon: little red envelopes. Ahead of Chinese New Year, when friends and family give each other hongbao filled with money, the tech and e-commerce giant is launching a digital hongbao app that lets users send each other electronic cash. Most notable is a gambling-like game where recipients have to "fight for hongbao" by quickly and correctly guessing the amount they've been given.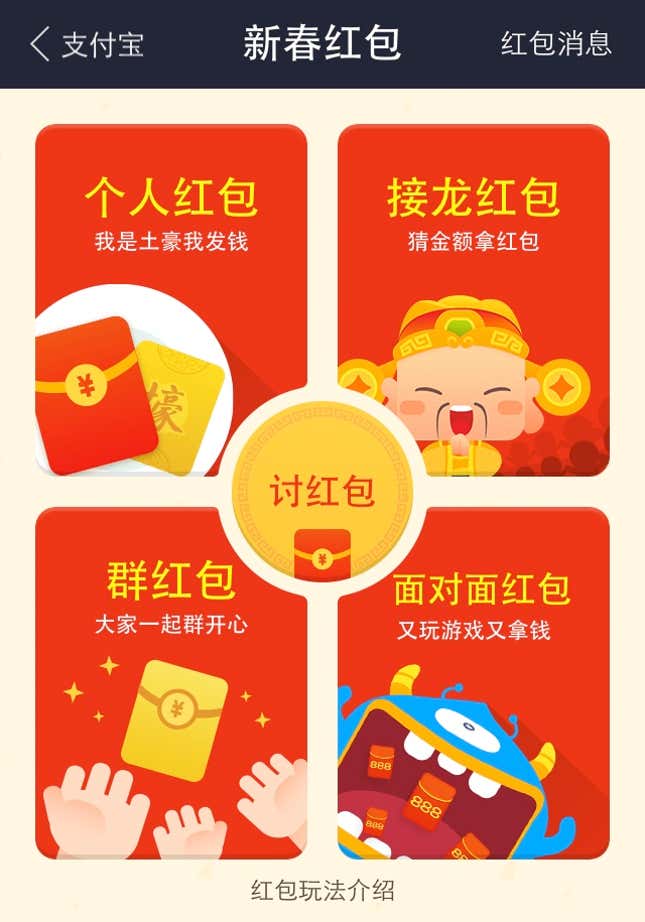 The app is part of Alibaba's messaging app, Laiwang, which has long lagged its rival Tencent's popular messaging app Weixin, also known as WeChat. Alibaba is trying to transform Laiwang from a plain messaging app into a cutesy, addictive social media platform along the lines of Japan's Line or South Korea's KakaoTalk.
A crucial part of Alibaba's hongbao strategy is getting people to link their bank cards to the chat app, so in the future they'll easily be able to pay for other products and services.
Alibaba first launched a digital hongbao in 2012, but the idea didn't catch on until Tencent introduced it on Weixin. When Tencent launched a digital hongbao app last Chinese New Year, the number Weixin payment users jumped from 30 million to 100 million in a month, with 20 million hongbao delivered over the span of the holiday.
Part of Weixin's success with its hongbao app was via stoking competition and gambling-esque suspense to encourage more spending, as Quartz pointed out last year. (This year, Weixin users can also send "lucky money" through a regular chat message like they would an emoji or a photo.) Like Weixin's app, this year Laiwang lets users send a lump sum to a group of friends. Those who guess the amount of money right first split the money while the rest have to wait for the next round.
Laiwang also has a more traditional option of "face-to-face" red envelope giving, in which one user transfers hongbao to another by placing their two phones next to each other.