As the economic data cycle starts to pick up this week—the all-important US jobs report is Friday—one of the most important reports out today shows the US manufacturing sector contracted during November.
The index, based on the Institute for Supply Management's (ISM) monthly survey of purchasing managers at manufacturing companies, fell to 49.5 in November, down from 51.7 in October. Any number below 50 indicates that activity shrunk during the month. Wall Street economists had expected a reading of more than 51 for November, according to FactSet.
Here's a look at this closely watched measure over the last few years. Clearly, after the sharp deterioration during the Great Recession, manufacturing bounced back. But the pace of expansion has been slowing for months, which has raised alarms among some economy watchers.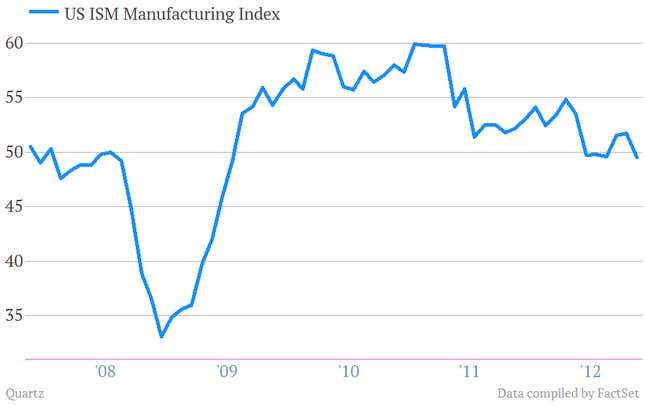 In recent months, caution from business owners has emerged in economic data that gauges plans for business spending, which some analysts have linked to the ongoing wrangling in Washington over a deal to better balance revenues and spending. Such a deal is necessary to keep deep automatic spending cuts and tax hikes—the so-called fiscal cliff—from kicking in early next year. That could sink the US back into recession.
On the other hand, US consumers seem to be less concerned about the potential impact of the fiscal cliff. Fresh data on consumer appetites will appear throughout Monday in November sales updates from car manufacturers.