When Apple announced last year that its two new iPhones would have significantly larger screens, it was—to some extent—a concession. The company had long turned up its nose at supersized smartphones, but then there was CEO Tim Cook, announcing that the only new iPhones you could buy would come in two sizes: extra-large and extra-extra-large.
Apple's bet paid off, and paid off huge. The company reported its December quarter results yesterday, and the XL and XXL iPhones stole the show.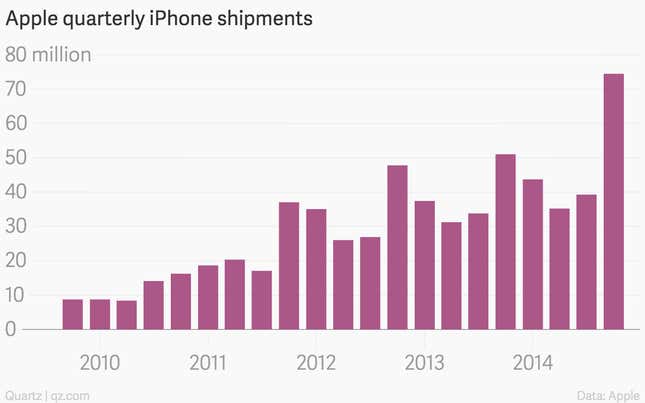 iPhone shipments reached 74.5 million—46% higher(!) than its previous record, set a year ago, and the biggest iPhone jump in sales ever.
iPhone revenue reached $51.2 billion. This represented 69% of the company's total sales, the highest percentage ever.
iPhone popularity in China skyrocketed, despite the increasing prominence of Xiaomi and other local smartphone brands. Apple was the top smartphone maker in China last quarter, according to research firm Canalys.
iPhone average selling price reached $687, up $50 from the same period a year ago. On the earnings call, Apple attributed this gain to "the popularity of iPhone 6 Plus [which costs $100 more than the iPhone 6] and the increased value customers saw in our higher storage capacity offerings."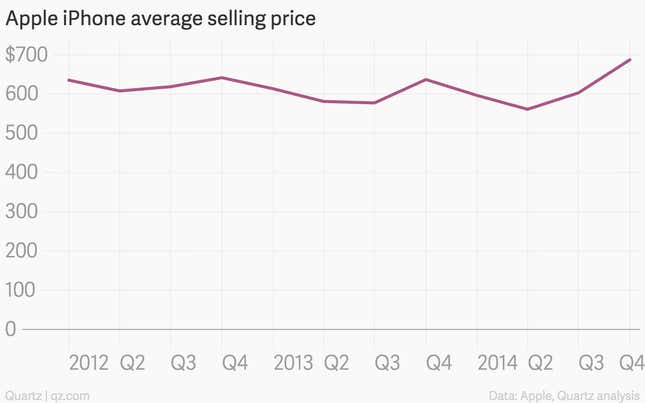 Oh how things have changed. In 2012, when the company introduced the iPhone 5—which was taller but not wider than its predecessors—Apple product marketing chief Phil Schiller made a big deal about thumb control. "What is the design center for the phone? It's this—it's your hand," he said, showing a slide of a human thumb. "A phone should feel great in your hand, and more importantly, should be easy to use with this magical device we all carry called a horizontally opposed thumb."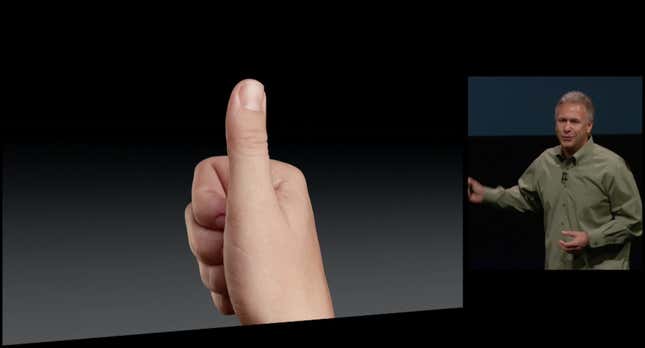 This was a jab at rival phones that were growing ever larger. (Potentially by accident: One theory suggests that Android phone makers had to ship bigger phones because they lacked Apple's miniaturization skills.) Apple, meanwhile, followed up in 2013 with the iPhone 5S, which kept the same 4-inch screen as its predecessor.
But by 2014, it was obvious that much the market liked bigger phones. Some may have even been avoiding Apple's phones because they didn't come in larger sizes. Smartphones were becoming pocket computers that people used for hours every day, and in many cases, a bigger screen was simply better.
So Apple couldn't resist going big, much to the derision of its its rival Samsung, which ran ads touting Steve Jobs' quote that "no one's going to buy" a big phone." This is, by the way, one of the sharpest tricks in Apple's playbook. It has famously gone back on its public word several times over the years, always for the better. These reversals range from iPods that play video to smaller tablets.
Now, while some purists pine for a smaller iPhone, millions love the iPhone 6 and the freakishly large iPhone 6 Plus. And Apple is looking very smart—and having the last laugh.