Facebook had, as CEO Mark Zuckerberg repeatedly said on Jan. 28, a "good" quarter. The company beat Wall Street's expectations—bringing in $3.85 billion in sales—and now has nearly 1.4 billion monthly active users. But there's a disconnect in Facebook's business right now: Revenue is primarily coming from the US, Canada, and Europe, whereas user growth is coming from the rest of the world. As a result, Facebook is essentially running two businesses, but it seems to have a long-term plan to fold them into one.
Startups with a good idea tend to be in the business of first acquiring users, and then figuring out how to make money off of them. Think: Twitter, Instagram, Snapchat, and even Facebook itself. This is where Facebook currently is in the developing world, where over half a billion users access Facebook on a mobile phone. Many of these users don't have smartphones, accessing Facebook Zero or simplified mobile apps. The problem is, the vast majority of Facebook's revenue comes from advertising, and there just isn't the same real estate for ads on feature phones, nor is there the bandwidth for video ads, which are quickly becoming a part of Facebook's advertising model.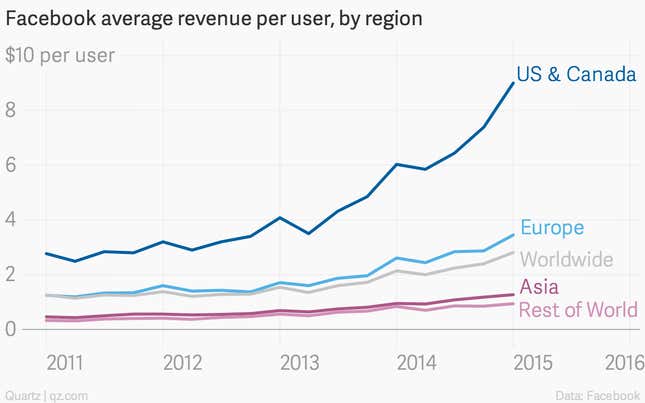 In the last quarter, Facebook generated $9.00 per user in the US and Canada, compared to $1.27 in Asia-Pacific. Facebook's monthly active user base in the US and Canada grew less than 1% over the same period, whereas it grew more than 5% in Asia-Pacific. Facebook is not growing where it has figured out how to make money.
Facebook's mobile advertising revenue now accounts for 69% of its total advertising revenue. In mature markets, like North America and western Europe—where smartphones with large screens and reliable cell networks are more accessible—the company has figured out how to turn its captive audience into revenue. Bloomberg reported that in 2014, Americans spent an average of 40 minutes a day on Facebook, and Facebook said on Jan, 28 that each user in North America was worth nearly $30 to the company last year. All those idle minutes, checking what friends were up to, who got married, or who had kids, added up to a lot of time spent with Facebook's ads.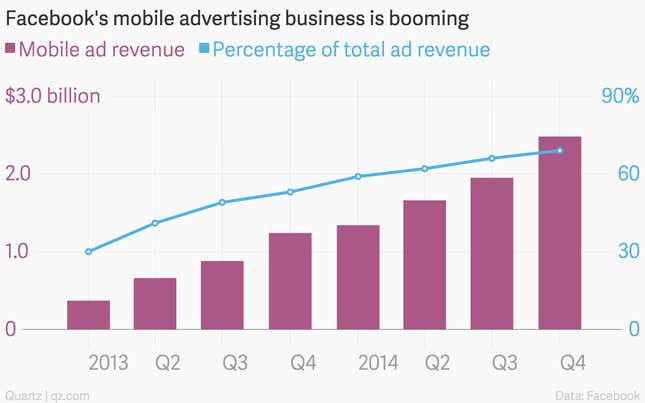 This isn't the case in the rest of the world, but Facebook may have a plan to change this. On Wednesday's call, Zuckerberg laid out his three-, five- and ten-year plans for the company. In the next few years, it's essentially business as usual for Facebook—grow revenue in mature markets, and hopefully figure out how to make a useful search product for the exabytes of data it has.
Zuckerberg spent a lot of time, as he has done on previous earnings calls, talking about internet.org, the Facebook-backed project to bring the internet to developing nations. Zuckerberg said he plans to "connect everyone to the internet" through internet.org over the next decade. Bernstein analyst Carlos Kirjner asked why Facebook has put so much effort into this project. Facebook CFO David Wehner said it was a "good business opportunity" for the company, but it's more than that—it's what Facebook needs to secure its long-term future. Facebook is reaching a saturation point in its mature markets, and will need to turn the hundreds of millions of users it has on feature phones into revenue generators. By helping to create more mature markets, Facebook can try to use the same advertising model it's currently using in the US and Canada in new places.
It's uncertain how much Facebook will be able to materially affect the communications infrastructure in developing nations to create more users. Zuckerberg said on the call that he is excited by internet.org's progress, and that six million people in Zambia, Tanzania, Ghana, Kenya, and Colombia have so far connected to the internet through the organization. That's modest progress compared with the 150 million people who live in those countries alone, or the roughly 4.4 billion people worldwide who do not have access to the internet. According to Ericsson, however, 90% of the world's population over the age of 6 will have a mobile phone by 2020, which suggests Zuckerberg may get his wish, even if internet.org is not the driving force behind internet adoption.
For now, Facebook will continue to reel in as many users as it can in developing nations, with the hope of monetizing them in the future. Whether Facebook will be able to turn two business models into one remains to be seen.