Facebook reported its fourth-quarter financial results this afternoon.
The numbers: Big-picture, Facebook beat expectations. Fourth-quarter sales passed $3.85 billion, representing 49% year-over-year growth, and beating Wall Street's expectations. Net income reached $701 million, up 34%. Still, shares declined 3% in after-hours trading.
The takeaway: What's most impressive is how well Facebook has executed in mobile—both in attracting users and its advertising business. Facebook approached 1.2 billion mobile monthly active users during December, and 526 million mobile-only monthly active users—about half. Meanwhile, Facebook's mobile advertising revenue reached $2.48 billion, representing 69% of Facebook's total ad revenue, an all-time high.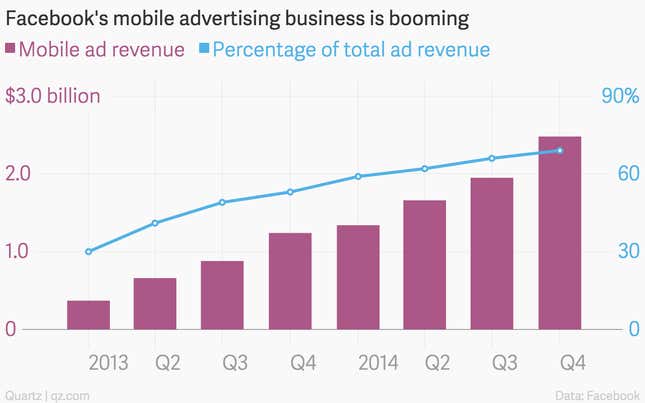 What's interesting: While Facebook's user growth has slowed, it continues to generate more revenue per user. During the fourth quarter, Facebook generated $2.81 per average user worldwide, $9.00 per user in the US and Canada, $3.45 in Europe, $1.27 in Asia-Pacific, and $0.94 in the rest of the world. Each was an all-time high, and up significantly from two years ago.
Bonus stat: Facebook chief operating officer Sheryl Sandberg told CNBC that Facebook users are now watching 3 billion videos per day, up from 1 billion in September.