This post has been corrected.
The numbers: Amazon just posted its 54th consecutive quarter of double-digit revenue growth. Net sales in the fourth quarter were up 15% from the same quarter a year earlier, to $29.3 billion. The company posted a (rare!) quarterly profit $214 million, or 45 cents a share, which was much stronger than Wall Street expected. The online retailer's shares have soared by more than 10% in after-hours trading.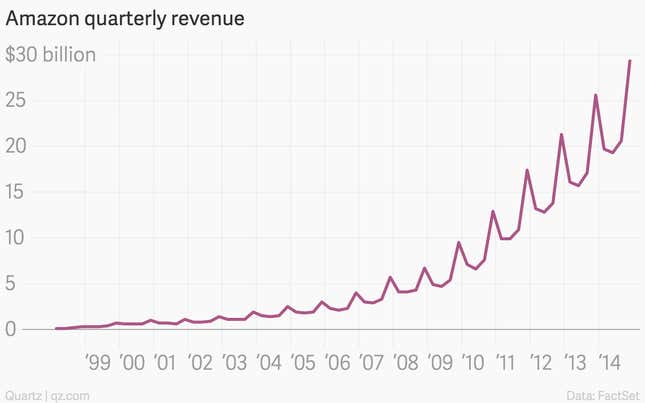 The takeaway: Prime is becoming an increasingly valuable asset for Amazon. Despite a price hike back in March for the company's US home-delivery service (which includes free access to its increasingly impressive streaming video platform), the number of US subscribers to the service grew 50% last year. Globally, Prime's subscriber base increased 53%. We've talked before about how important Prime is to the company's future. Amazon is hoping to build an army of super-loyal customers who will use the service for almost anything, and spend twice as much with the company as non-subscribers do.
What's interesting: The bottom line. Amazon is often criticized for its lack of profits, so any time it posts one (particularly one better than people expected), it is interesting.
Correction (Jan 29): A previous version of this post said last quarter was Amazon's biggest quarterly profit since the third quarter of 2007. In fact Amazon reported a quarterly profit of $240 million in the fourth quarter of 2013.