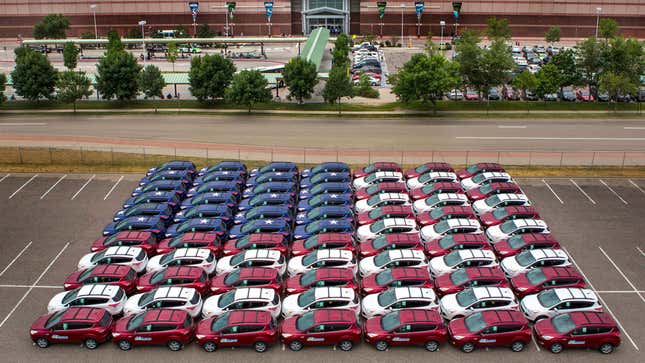 US auto sales for November arrived much  better than expected. The late October superstorm that struck the northeastern United States played a strong part, as plenty of cars were swamped and totaled, including some 15,000 imports that never even left the New Jersey port where they were unloaded from the freighters that delivered them. Bloomberg reports:
The annualized industrywide light-vehicle sales rate, adjusted for seasonal trends, accelerated to 15.5 million, beating the 15 million average estimate of analysts surveyed by Bloomberg. The best monthly pace set by the industry since 15.6 million in January 2008, according to Autodata Corp., shows the auto industry continues to push the U.S. economic recovery.
Another thing worth pointing out is that the ridiculously low interest rates being driven by the Federal Reserve's efforts are clearly helping the automotive industry. Just listen to Kenneth Czubay, vice president of US marketing, sales, and services at Ford. Speaking about the strength of sales, he told automotive industry analysts on the company's sales update conference call today:
It's indicative of strong consumer sentiment that it's a good time to purchase a car. And you fuel that with historically low interest rates, strong performance from Ford Credit supporting our dealers and the total value proposition of greatly enhanced fuel economy with our Ford entries. People are coming in and saying, I've got an older vehicle, I'm faced with a high maintenance bill and we're turning that into, we can give you a car of tremendous value, it vastly improves fuel economy, low interest rates, I mean people are saying now is the right time to buy a car, utility and especially a Ford truck.
The Fed has had interest rates parked at near-zero since early 2009, so it's easy to forget how important those easy conditions are to the US economy. But even though low interest rates can't turn the economy around on their own, they are still providing considerable support to the US. This is just more evidence that shows the the crowd that continually repeats that the Fed can't do much to help the "real economy" are completely missing the point.
Photo credit: Associated Press