The Irish low-cost airline Ryanair reported fiscal third-quarter results (pdf), covering the three months to December.
The numbers: Robust. Ryanair soared above expectations in its latest quarter, netting a €49-million ($56-million) profit. That was well above analyst expectations, to say nothing of the €35-million loss the airline made in the same quarter last year.
The takeaway: Traffic, load factors, operating costs, and just about every other important metric is pointing in the right direction for Ryanair. That's why it just upgraded its full-year profit outlook for the fifth time in six months. At the start of the year, the airline expected an annual profit of around €600 million; it now estimates that it will make €845 million in the 12 months to March, a jump of more than 60% from the same period a year ago.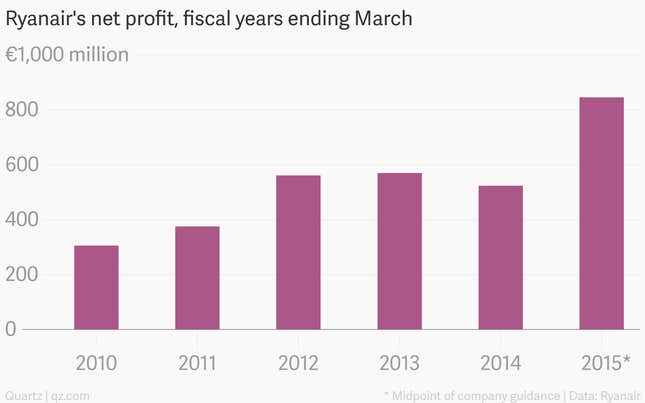 What's interesting: Lower oil prices aren't the boon for Ryanair that you may expect. The company has pledged to keep cutting fares to shake out less flexible competitors, but its room for maneuver is limited by hedges it has put in place to lock down fuel prices. Some 90% of its fuel bill is set at $95 per barrel this year and $92 per barrel next year. (Brent crude oil has recently traded in the $50-$60 range.)
The company said its lower costs elsewhere will help keep it competitive, but profit growth next year will be "modest" in relation to unhedged rivals. Even after it unveiled a new €400-million share buyback program, investors were spooked, worrying that these hedges will soon hold the airline back. That pushed Ryanair's shares down by more than 5%, despite its positive headline results.