Chipotle raised its prices last year for the first time in three years. Sales didn't slow down a bit; the company just announced another excellent quarter, with comparable-store sales rising 16.1% from the same quarter a year earlier. Facing beef prices that continue to skyrocket, the casual Mexican-food chain may do another targeted price increase later this year on steak and barbacoa items.
On the company's earnings call today, executives said that the price increase last year didn't cover what turned out to be a bigger-than-expected jump in beef prices. (The last increase roughly doubled what used to be about a 30-cent upcharge for beef to 70 cents.)
"Now it costs us an extra dollar or so to serve steak versus chicken," CFO Jack Hartung said on the call "And so we're actually not covering that with the upcharge. And so it's that situation that causes us to think that we're subsidizing steak and barbacoa with other items on the menu, and that doesn't make sense to us."
If the company does end up raising prices, people who get beef (which makes up a third of orders) should probably expect another 30- or 40-cent increase, according to Hartung's rough math. The fact that the company saw almost no customers switch to a cheaper option based on last year's price increase suggests there is room to raise prices further. But with an eye toward keeping the chain comparatively affordable and accessible, the company likely will hold off on raising prices again until at least the middle part of the year, so that it won't have boosted prices twice within a 12-month period.
Chipotle is notoriously selective about where it sources protein from, so it likely faces even higher prices than what the USDA shows for all fresh beef. Overall, prices increased sharply last year, and are projected to continue rising: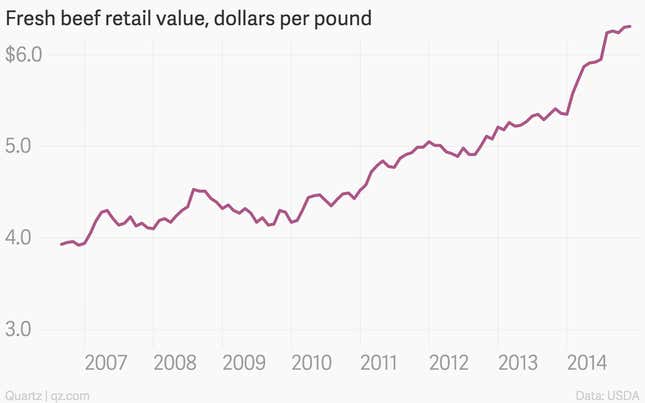 A price increase of the sort Chipotle is considering won't substantially impact results, just dampen the effect of continued price inflation, executives said. But for at least a few more months, beef is a comparative deal at Chipotle.