As parents of 4-year-old girls (and boys) around the world know, Frozen has staying power.
And the stickiness of the saga of the princesses Anna and Elsa has had impressive financial implications for the Walt Disney Company, which crushed expectations yesterday as it reported quarterly earnings.
"I don't think that we can underestimate the impact that Frozen has had across our company in all of our businesses," Disney CFO Jay Rasulo told analysts on the post-earnings conference call.
Consumer products operating profits jumped 46%, driven in part by sales of Frozen merchandise. Earnings at Disney's movie studio rose 33%, thanks in part to sales of Frozen DVDs. Frozen is also proving a popular draw at Disney's amusement parks, a unit where operating incomes were up 20%. Overall, quarterly earnings jumped 19% to $2.18 billion.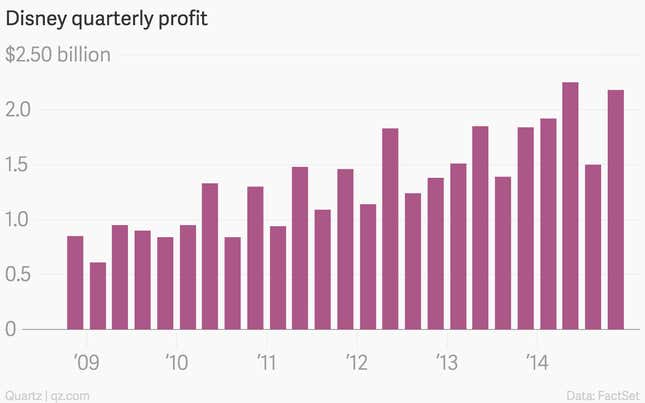 Disney's results underscore what just might be the defining characteristic of Disney as a corporation. The company is not only able to generate massive hits; it also has a relentless marketing and merchandising machine in place enabling it to milk them for a good, long time.
Indeed, Frozen's staying power hasn't relied solely on the initial film's release—rather it's been carefully stoked with a series of well-timed promotions and merchandise released over the last year. More is planned for the future, including a Broadway musical and a Frozen-themed sea cruise.
Though its nothing new to the markets, Disney's stock is up 65% over the last 12 months, trouncing the performance of the S&P 500, which itself is up a respectable 16.5%. This could go on for some time. In fact last year Disney CEO Robert Iger laid out plans for the Frozen franchise, telling analysts "you can expect us to take full advantage of that over the next at least five years."
And it bodes well for the future, especially as other known-quantity franchises are rolled out. The studio's next much-anticipated blockbuster release, Star Wars: The Force Awakens, is due to hit theaters on Dec. 18.