The numbers: Twitter reported 288 million monthly active users in the fourth quarter, up 20% year-over-year but below Wall Street's expectations. Revenue nearly doubled to $479 million, which was far ahead of the analyst estimates. Shares initially fell in after-hours trading but are now up 11%.
The takeaway: The slowdown in user growth doesn't look good. Wall Street was expecting more than 290 million monthly active users; the 288 million reported reflects growth of just 4 million during the quarter. (Twitter also reported zero growth in the US, its home market, where it has 63 million monthly active users.)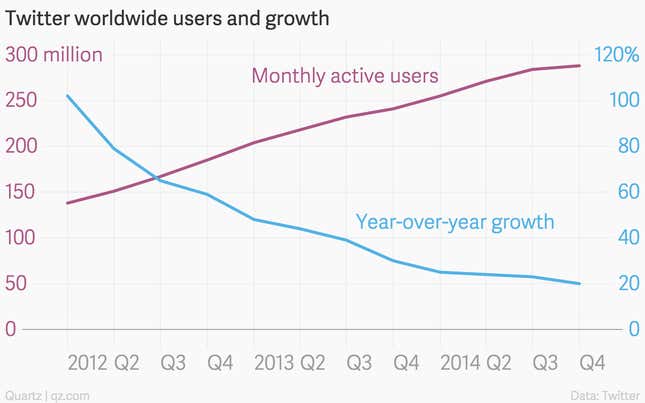 But Twitter notes there was nuance to the number, which made its user counts artificially smaller. For instance, CFO Anthony Noto said on Twitter's earnings call that the company lost 4 million net users due to Apple's iOS 8 rollout. The lost users primarily were people who were using Apple's Safari browser to automatically fetch Twitter data, but weren't really using Twitter. Noto also reminded investors that the fourth quarter is seasonally Twitter's weakest user-growth quarter of the year. And Twitter executives repeatedly said that growth has already re-accelerated this quarter.
The ideal case? New product improvements, which Twitter is finally starting to roll out, are going to help bring new users to the platform. These include group messaging, instant timelines, and a better experience for the half-billion people who visit Twitter's site but don't count as active users.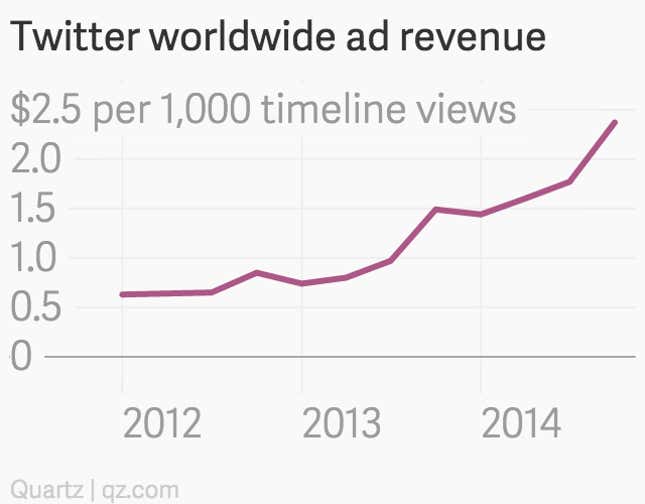 What's interesting: Twitter's advertising business really is working. Ad revenue as measured against timeline views—essentially, Twitter's ability to make money from its users, given a constant base of activity—grew 60% during the fourth quarter, to $2.37 per 1,000 timeline views. The company also is testing and launching new revenue opportunities, including displaying Twitter ads in other mobile products and video advertising.