A drop in the share price of Moutai, the high-end liquor elites offer as "gifts," is a signal that investors may be taking seriously China's promise to crack down on corruption.
Moutai is the country's top luxury brand of baijiu ("white alcohol"), a popular grain liquor, and it can cost up to ¥1 million ($160,635) for a vintage bottle. (CBS anchor Dan Rather reportedly described it in the 1970s as tasting like "liquid razor blades".) It has long been a staple bribe used in elite political and business circles. In 1989, Chinese Youth News called the liquor, also known as Maotai, an "all-purpose grease" for bribing bureaucrats and party cadres. Past surveys have shown that roughly only 1 in 100 of Moutai drinkers bought the liquor themselves.
Up to now, investors have been dubious about government promises to root out graft. Back in March, when outgoing premier Wen Jiabao vowed to stop government officials from spending extravagantly on high-end liquor, shares in Kweichow Moutai, the company that makes it, fell only slightly. As it became clear that Xi Jinping was slated to be China's new president, the company started promoting one of its more modestly priced baijiu brands, which conveniently happens to be called Xi Jiu.
Xi seems to be driving the anti-corruption message home by banning red carpet treatment for Chinese officials as his first major policy move. And this time the market seems to be taking him more seriously. Shares in Kweichow Moutai began falling shortly before the mid-November party congress when Xi was anointed China's new head, and are down about 20%.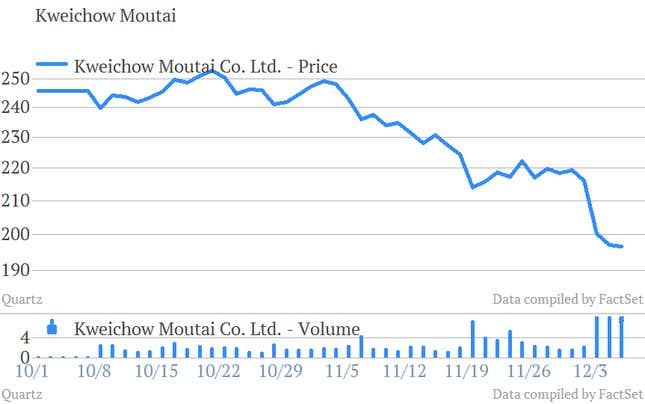 We've reported before how the take-down of Chinese officials via internet vigilantes is forcing the country's wealthiest to be more discreet. A recent report by Bain & Co. and Altagamma estimated that luxury good sales in China would rise only 8% this year, compared with 30% last year. On the other hand, if you're looking for vintage Moutai—not for bribery purposes, of course—you might find a sudden glut in the market right now.