News that India's GDP growth rate may be on track to overtake China's has prompted a fair number of subcontinental victory laps. Color us skeptical. India's supercharged growth rate is the product of a fairly radical overhaul of the country's GDP statistics. Also, most international comparisons are done on a purchasing power parity basis, which attempts to take into account the relative prices of different products and services in different countries. The comparison that puts India growth rates above those of China doesn't.
Yes, China's growth has decelerated over the past couple of years as Beijing attempts to let some of the air out of bubbles that have developed in the economy, such as in the financial and housing sectors. Yes, India's economy is clearly picking up a bit of steam, due perhaps to optimism surrounding the new business-friendly government led by Narendra Modi. And yes, India is getting a bit of a respite from the persistent inflation that has enervated the economy in recent years.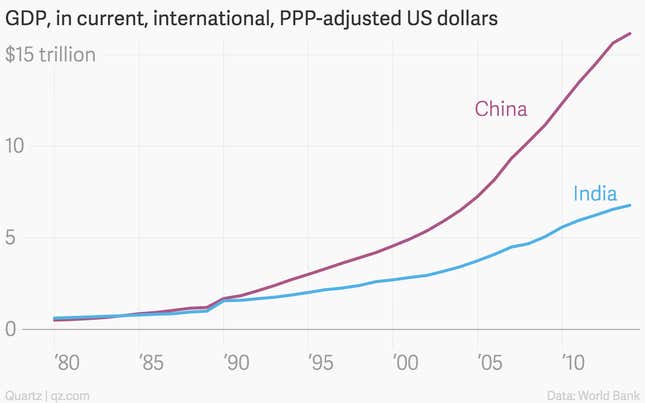 But it's important to put it all in perspective. India's economy has fallen well behind China's, thanks to blistering pace of growth in the People's Republic over the last 30 years. It's going to take a lot more than a couple quarters of growth and some statistical switcheroos to fundamentally alter the that reality anytime soon.