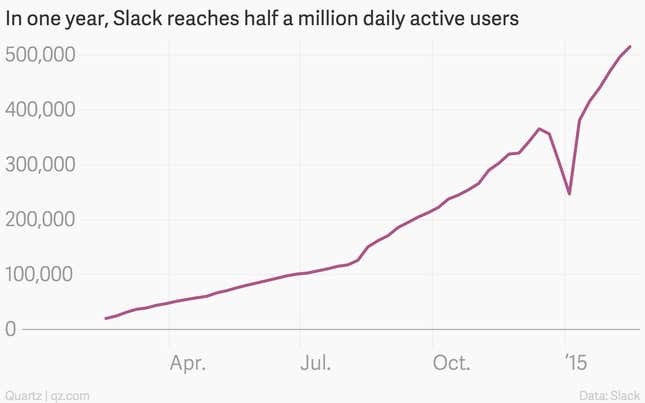 Slack turns one year old today. In its short but fascinating history, the startup has managed the remarkable feat of actually getting people excited about enterprise communication software. The company has more than 500,000 daily active users, and it's adding tens of thousands more every each week.
"That's our primary metric," founder and CEO Stewart Butterfield tells Quartz. "If you're not using Slack every single day, you're not really using it."
The chart above shows the peak number of daily active users every week in the last year. Minus the big drop off around the holidays, the company has been quickly gaining steam since August—around the time Wired published a big profile. Slack relies primarily on word-of-mouth marketing, helping keep costs low.
The company is currently valued at about $1.2 billion, and yet there is plenty of room to grow. The enterprise communication market is a huge business, expected to reach $23 billion by 2019. It says it recently surpassed $12 million in annual recurring revenue, a metric often used to measure growth for companies that sell services and subscriptions. Slack says it's adding an additional million dollars in annual recurring revenue every 11 days.
Looking ahead, Slack plans to expand to Windows desktops and smartphones, add emoji-based responses (similar to the Facebook like or Twitter favorite), and release a more robust enterprise version for managing large teams. Butterfield says these updates will trickle down to users later this year.