As fashion brands go, the American suit-maker Hickey Freeman is old. It has been around since 1899, making it about 10 years older than Chanel. Its suits have hung in the closets of US presidents Dwight Eisenhower, Ronald Reagan, and Barack Obama.
Venerable as those men may be, they are not exactly fashion icons, which is a problem for the brand. Young men have become increasingly interested in fashion, but one of the most established names in American suiting has yet to capture their attention. With a fresh strategy, the leadership at Hickey Freeman hopes to change that. Next autumn, the label will offer two new lines: H by Hickey is designed to attract a younger customer, while the recently relaunched Hickey Freeman Sportswear aims to bring the Hickey Freeman guy into the 21st century.
"It's just that his tastes have evolved,"  said David Hart, the newly appointed creative director of Hickey Freeman Sportswear at the New York Men's Day presentation yesterday, where he showed the line's debut collection. "He's more sartorial, more into fashion."
Among the offerings for this customer at Hickey Freeman Sportswear's Feb. 11 show, on the opening day of New York Fashion Week, were a calfskin bomber and waxed cotton canvas raincoats, along with slim-fitting French terry sweatpants and selvedge jeans. It was the sort of military and workwear-inspired range on offer at big American retailers such as J. Crew or Banana Republic, only with luxe fabrics, more high-end construction, and prices to match—think $1,400 for a leather bomber and shirting just shy of $200.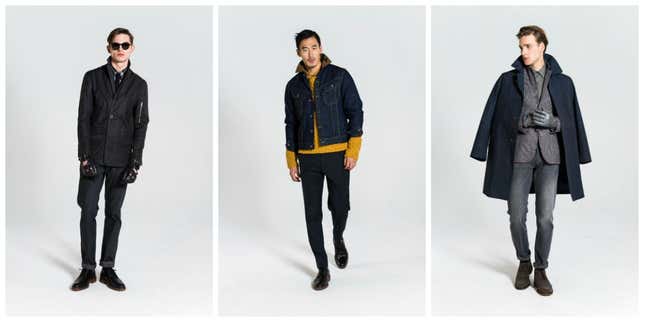 By comparison, h by Hickey has a younger point of view, and is priced lower for the guy who will grow up to be a Hickey Freeman suiting and sportswear customer.
This isn't the first time Hickey Freeman has tried to branch out. Back in the mid-2000s, the brand had a younger, cooler line called Hickey that sold reasonably well at retailers such as Barneys and Saks Fifth Avenue, and even got a standalone Hickey store in 2007.
But when its parent company, Hartmarx, ran into trouble in 2009 and Hickey Freeman was put on the auction block, the line was discontinued. Hickey Freeman has been sold twice since then—three times if you count the deals for its licensing rights and assets, including its historic factory in Rochester, New York.
Now the label is attempting a comeback of sorts. While suiting will always be the core of Hickey Freeman's business, adding easy-going sportswear in an athleisure-obsessed market is a smart play indeed.