Regardless of your gender, if you live in the world, you may have noticed that men everywhere have been wearing clothes. Increasingly, these clothes are not mere jeans and flannels; these clothes are fashion. It's menswear that says, I do not fear a hanky square or man bag; I own more than two pairs of shoes; I picked out these pants myself.
Menswear—which just won its very own New York Fashion Week—has launched an all-out campaign to be considered as seriously as womenswear. Here is a handful of the many ways the category is demanding to be acknowledged.
Menswear is "booming"
You may have read that menswear is doing something called "booming," as in, expanding rapidly.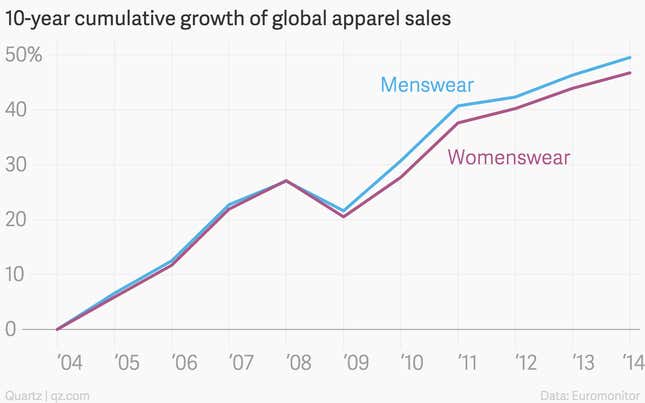 It is indeed growing, like many other sectors of the global economy, and apparently—amazingly!—has grown even faster than womenswear over the past decade. But marginally so. According to Euromonitor's estimated global apparel sales, menswear's average annual growth has out-boomed womenswear by a whopping 0.2%.
However. The women's apparel market worldwide is worth approximately $700 billion, compared with $460 billion for menswear: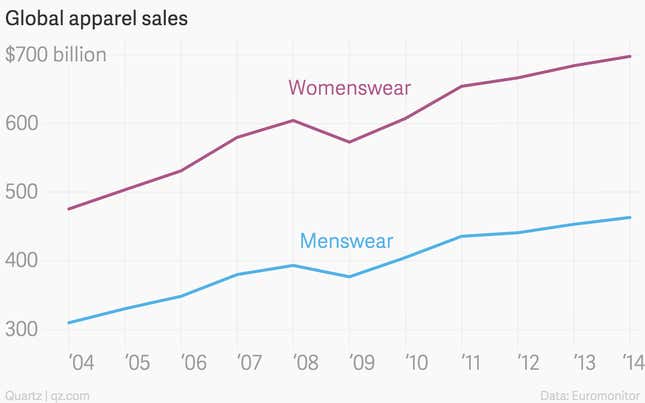 So if menswear and womenswear continue to grow as fast as they have over the past decade, it will take until the year 2228 for menswear to catch up with womenswear in absolute sales.
But by then, menswear may not be such a separate category at all—which is not such a bad strategy.
If menswear can't beat womenswear, it will just join it
Maybe the way to make the men's apparel market as lucrative as the women's is to just emulate it—or merge with it. Designers are blurring gender lines on the runway in ways that go far beyond the same old Ziggy Stardust references. (Because really, how many striped body-stockings can they sell?)
As Quartz has reported, white-hot labels such as Hood by Air, Public School, Baja East, and Eckhaus Latta have all demonstrated what a brave new world for gender in fashion might look like.
And it's not relegated to fashion's ultra-cool margins. In January, Gucci's new creative director, Alessandro Michele, sent out a menswear show celebrating what the brand characterized as "a dreamy ambiguity throughout."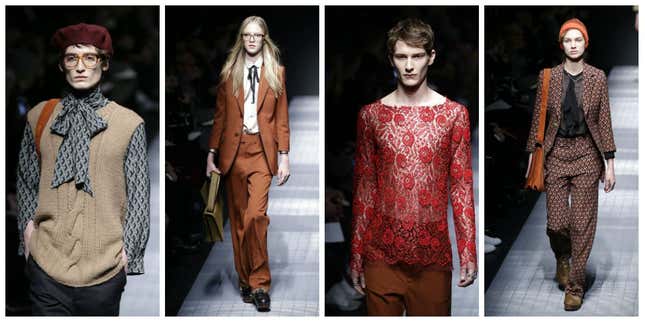 That included female models, lace tops, and pussy-bow blouses. Miuccia Prada's suiting took a harder line, but her approach to the gender discussion was similar:
"These shows are the perfect moment to analyze this subject more deeply to measure what the genders share, what they take from each other," said Prada. My market share is your market share.
So who's buying this stuff? So glad you asked.
Menswear has a rich, childless fan base with a funny name
Twenty years after the birth of the metrosexual, researchers at HSBC came up with another term for vain men wont to spend their paychecks on luxury goods: yummies, which is just an embarrassing name for young urban males.
According to Bloomberg's interpretation, insecure men in their 20s are well-poised to shop on their smartphones, and they don't care about saving for cars or their kids' college funds—because they don't have any. But they still like driving moccasins.
Menswear has its own hashtag—plus, a mascot
Like so many important global movements, menswear has harnessed the power of social media. Back in the mid-aughts there was hardly anywhere for a guy to read about raw selvedge denim or authentic Japanese loopwheel terry cloth sweatshirts online. But now menswear has its very own hashtag called, you guessed it, #menswear. But it's already over, according to GQ's Jian Deleon, who lamented the sharp dive in the quality of Tumblr's #menswear in December 2013.
"Two years ago Tumblr's most recognizable #menswear figures included men like Nick Wooster, Lawrence Schlossman, and Josh Peskowitz," wrote Deleon. "Now, it's a shiba inu named Bodhi."
But that shiba inu gets paid.
Today Brian Trunzo, the co-owner of the New York City men's store Carson Street Clothiers, uses the hashtag as shorthand for a style all its own. Essentially, he says, #menswear is post-lumbersexual tailoring.
"From 2007 to 2010 [we saw] the whole work-wear movement," Trunzo tells Quartz. "You were able to tell a guy who otherwise didn't care about fashion that he could wear a plaid work-shirt with raw denim and work-boots and look fashionable, and that was easy. … And then after that [came] the proper—as we endearingly call it—'hashtag-menswear' movement—of classic silhouettes, and classic tailoring,"
"And now, I think, those guys as they start to transition, they're thinking: 'Ok. I have my workwear denim from years ago. Tailoring is fantastic—I can always wear tailoring. What's the next thing?'" says Trunzo. "And they're easing into the more—I don't want to call it experimental—but the more interesting sportswear. Things that they otherwise definitely would not have thought about years ago."
If all else fails, menswear will flash you
Rick Owens—a talented, respected designer with a devoted following—tried a different tack this season: some strategically placed holes (NSFW) in the asymmetrical tunics and robes he sent down the runway.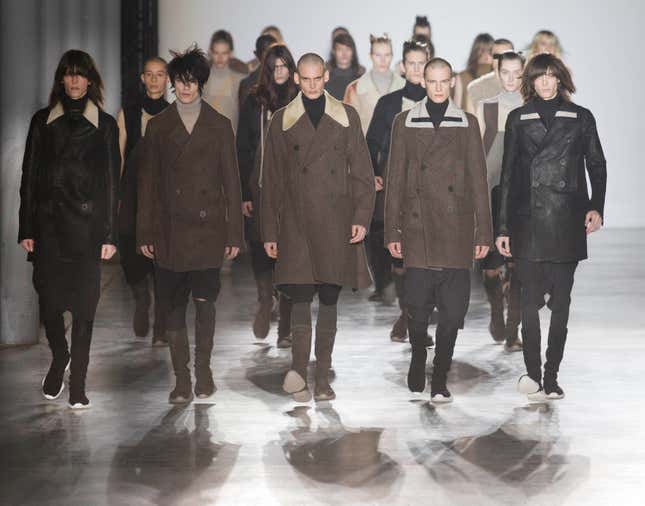 "It's a little bit of juvenile transgression," Owens told Style.com. "Boys with their dicks out is such a simple, primal, childish gesture."
And along with Owens' beautiful shearlings, strong-shouldered pea coats, and on-trend turtlenecks, it brought menswear a lot of attention.