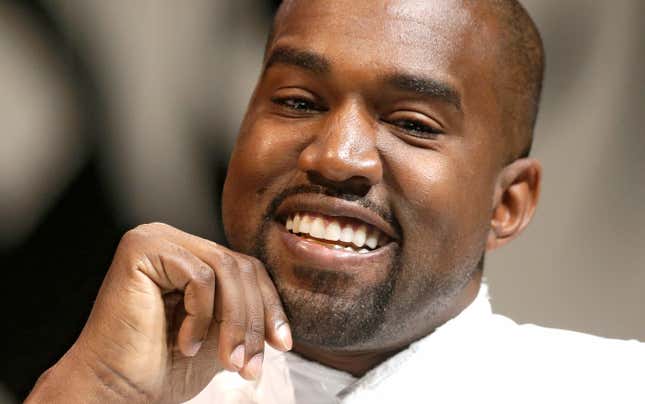 Kanye West presented the new collection of sneakers and clothing he made with Adidas along with a new song today at New York Fashion Week. The crowd included his wife Kim Kardashian and daughter North West along with Beyoncé, Jay-Z, Rihanna, Justin Bieber, fashion designer Alexander Wang, Vogue editor-in-chief Anna Wintour, and many other notable artists and fashion editors. Obviously aware of the glaring spotlight he invited and the inevitable judgment awaiting his collection—which included nude body-stockings, camouflage jackets, and holey sweaters, along with his long-awaited Yeezy Boosts—West delivered a message, documented by GQ, about creating art when you fear being judged.
*  *  *
There's a series of, you know, people who like writing negative comments. They want to joke around and say, Why is he still trying? You know, if I see something, if I see an opportunity I'm going to go for it. I'm here to crack the pavement and make new grounds, you know, sonically and society, culturally.
We're not always in the position that we want to be at. We're constantly wrong, we're constantly making mistakes, we're constantly trying to express ourselves and actualize our dreams. I want to create something better for you. We have been limited.
It's bigger than who I am. Even in my presence, living, it's about when I was on earth, what did I do to help? I want people to think more, I want people to feel like it's okay to create and follow what their dreams are and not feel boxed in, I want people to feel like awesome is possible! There's a lack of creativity in every field because people are afraid. As an artist and in this world we can do whatever we want.