In its battle to take a shred of market share—and design swagger—from Nike, Adidas may have no greater ally than the rapper Kanye West.
With his first sneaker collaboration with Nike, Kanye (as he's generally known) catapulted himself, Air Jordan-style, into the realm of seriously desirable sneakers, with resale values far beyond their original sticker price. With the sequel, Nike's Yeezy 2, he did it again: "The fact that Yeezy 2 resale prices never seriously fell off just goes to show that sometimes the hype—no matter how outsized—is justified," wrote Russ Bengston at Complex, in a piece titled "The 25 Most Hyped Sneakers of All Time." That 2012 shoe, in two different color-ways, still holds the top two rankings on Campless, a site that uses data points including total sold, price volatility, and resale prices to analyze the power of specific sneakers.
Since Kanye announced that he would take his Midas touch to Adidas in 2013, sneaker and fashion blogs have covered every incremental step toward the third coming of Yeezy: It will be released in June—no, November; Here's a leaked image of a prototype; He's talking about it on the Ellen DeGeneres Show!
Now, Adidas is at once feeding and the hype and streamlining the sales system for rabid sneakerheads with a new app. It's called Confirmed, and is specially designed for selling limited-edition sneakers whose demand far outstrips the supply.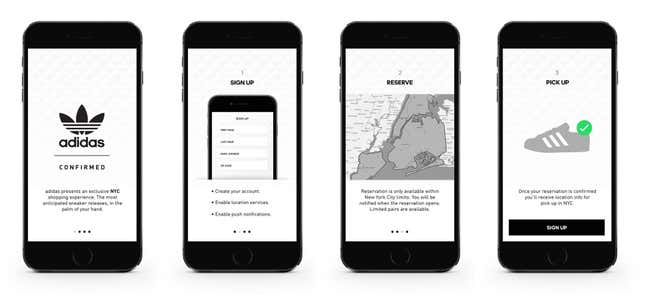 Simon Atkins, who oversees US brand marketing for Adidas, told Quartz that Confirmed will be the primary way for Adidas fans to get at those products, adding that a recent sneaker designed with the rap artist Pusha T would have been a good candidate for the app.
"Consumers are frustrated," he said, describing the current systems for buying shoes with potentially high resale values, which often involve lotteries for reservations, long lines, and no guarantees. "It's not an even playing field," he said. "On Twitter, you're faced with bots."
That last comment was likely a jab at Nike, whose Twitter-based system, RSVP, has been hacked before.
Once users download Adidas' app, they will receive push notifications when a certain shoe is available in their geographic zone. Then, they'll be able to pick out a pair in their size, and make a reservation to complete the purchase in a nearby store.
Some may say an app that requires fans to own smartphones doesn't exactly level the playing field, and there will likely be those who feel nostalgic for the days sneakerheads lined up outside the store.
"In effect, the line is in your app," said Atkins. "It's a virtual line in your hand."
No doubt, many will download the app and start lining up. Atkins confirmed that the Kanye West collaboration would be released on the app, though he wouldn't divulge the date.