Apple's market value keeps roaring higher following a truly historic fourth quarter earnings report. And while, in nominal terms, it is by far the most valuable publicly listed company in history, that's not the case if you account for inflation.
Still, Apple is steadily climbing the ranks. It's market value at Thursday's close was more than $735 billion, a level at which it leapfrogs a forgotten market giant of the 1980s: Nippon Telegraph and Telephone.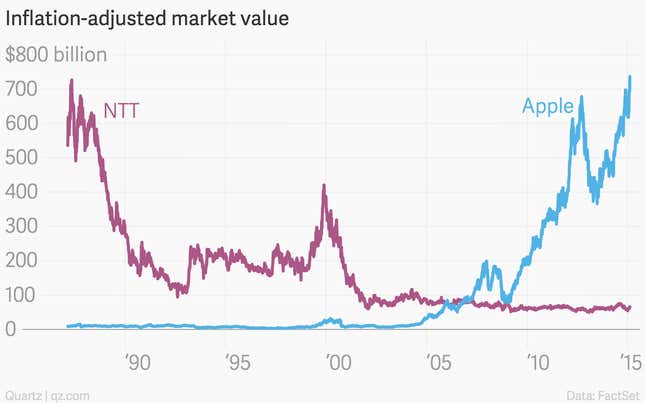 Shares of the Japanese telecommunications giant rocketed after they began trading in February 1987, and by April they had more than doubled. By May they hit their peak of roughly $348 billion, which in today's dollars works out to nearly $730 billion. These were the glory days of the Japanese bubble of the 1980s. NTT was the most highly valued company on earth, dwarfing its closest competitor, IBM. Writing in the New York Times a couple of years later, Floyd Norris noted that, "At its peak, the market value of this one telephone company was greater than that of all the companies listed on the Hong Kong and West German stock markets combined."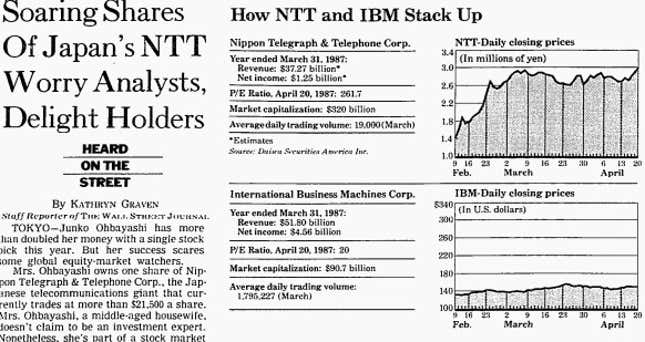 The briefest of glances at the company's price-to-earnings ratio, which hovered at more than 200 times earnings, revealed this to be a massive bubble. (Although people argued to the contrary. Some cited the value of NTT's real estate—which was itself part of the country's roaring real estate bubble—to justify the price of the shares.) And it popped. Massively. As of yesterday's close, NTT was valued at roughly $65 billion.
Perhaps that's what's so impressive about Apple's recent run to higher valuations. Despite the nosebleed price the stock market is assigning the Cupertino, Calif. company, its price-to-forward earnings multiple is a downright sensible sounding 15, a level usually seen as "fairly valued."