Thousands of Alibaba employees will be disappointed to learn they will not be receiving a red envelope full of cash (known as hongbao) for Chinese New Year from CEO Jack Ma, in what had been a long-time custom at the e-commerce giant.
According to a rather downbeat letter to employees posted on Ma's Weibo page, despite the fact that the company raised $25 billion in its blockbuster IPO in September, the past year has been lacking in "exceptional accomplishments." Ma  wrote: "The success of our IPO should not be seen as a surprise. It was the accumulated work of 15 years. Aside from going public, objectively speaking we are not so satisfied with our performance in 2014 that we should give out red envelopes."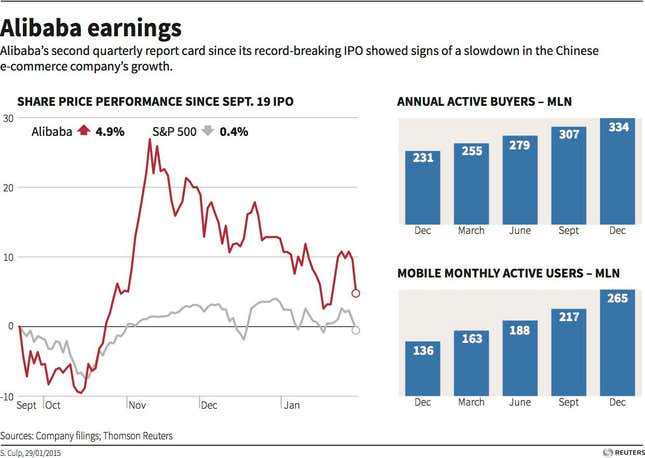 Indeed, Alibaba's latest results were a bit underwhelming: revenue during the third quarter was 26.2 billion yuan ($4.2 billion), missing estimates of 27.6 billion yuan. Its stock price has fallen over 14% since the IPO. But the latest public show of frugality may also have something to do with the scrutiny the company has attracted from Chinese regulators.
In a white paper last month, China's State Administration for Industry and Commerce accused the company of not doing enough to keep counterfeit goods off its platforms and detailed a meeting held on the subject before Alibaba's IPO. The agency later pulled its report but that doesn't mean the company is out of the dog house. Late last week, China's National Development and Reform Commission also said it would begin investigating e-commerce businesses' pricing behavior. (The US Securities and Exchange Commission has also requested information about Alibaba's interactions with the regulator.)
As Quartz has reported, the unfolding drama shows how much the fortunes of even a company like Alibaba's depends on the favor of the Chinese government. Avoiding a showy Chinese New Year hongbao giveaway may be one way to avoid stoking the fires.
Ma concluded his letter thus: "We have the same problems that any large company has. We have the same difficulties that any young company has.  The gap between what the world expects from us and our own ability is quite large…We may never be able to change how some people see us, but we can change ourselves."