It's the juggle of every Nigerian professional: all those mobile handsets.
And then comes the struggle: For consistent phone reception.
There's little consumers can do about the state of their network's coverage but there is a market solution to the inconvenience of carrying more than one phone–dual-sim phones. Nigeria is the world's biggest market for such phones.
By the end of last year, there were nearly 140 million "active lines" in Nigeria's mobile market. New data published last month in Quartz shows 66% of them are in dual sims phones.
In developed markets like the US and the UK, it doesn't make sense to be tied to more than one network provider at any given time because that would typically mean more than one expensive contract. But in Nigeria, such phones have become the rule, rather than the exception. The fact that the SIMs themselves cost next to nothing is a contributing factor. And in an informal economy with no credit infrastructure, mobile culture is almost entirely pay-as-you-go. Contracts and structured payments are rare. After obtaining a SIM for free or for a small nominal fee on their desired network, subscribers purchase prepaid services with upfront cash.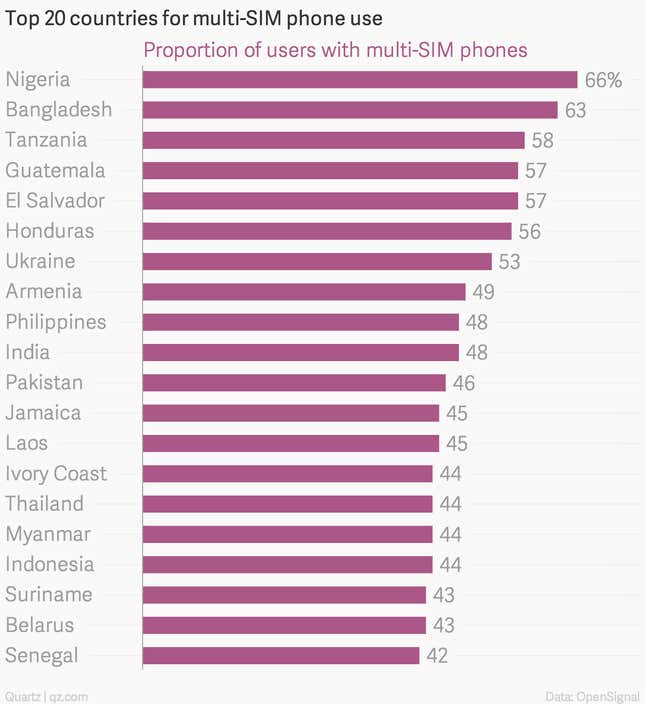 However, other emerging markets share these same factors, and still Nigeria boasts an outsized number of dual-SIM devices. Why? At least two-thirds of those active lines are actually among two or more numbers shared by a single user, according to Open Signal, a crowdsourced wireless network database. Two key reasons might explain this phenomenon. First, Nigerian telecommunications companies struggle to maintain quality service, and users subscribe to multiple network providers to insulate themselves from downtime. The second is to take advantage of myriad deals and spectacular promotions that telcos in Nigeria are renowned for. At least a couple of these seem to be running at any given time. At one point, the local regulator was forced to ban promos and other flashy displays by all the top telcos which were intended to lure customers but not rooted in improving quality of service.
In fact, Nigerians' ownership of multiple SIMs (and thus dual-SIM phones) is actually a statement of consumer power and choice amid the country's ultra-competitive mobile telecom landscape. In the early 2000s, the few telecoms that managed to secure licenses had only just begun to roll out on a city-by-city basis. Early services were often spotty, depending on the concentration of base stations. Each would try as much as possible to capture strategic locales that had yet to be "colonized" by the competition, leading to a hodgepodge pattern in which a lot of the country had cellphone service, but quality varied depending on which network was dominant in the area. People who absolutely needed to stay on the grid no matter what took to procuring more than one phone and provisioning them with SIMs; that cost as much as the phones at the time. In fact, the fastest growing telco at the time, MTN, would adopt the slogan "Everywhere you go," as a nod to this newfound need to stay connected.
As mobile telephony spread all over the country and growth slowed, the cost of SIM cards would eventually plummet. In a bid to poach each other's subscribers in a saturating market, the telcos would go as far as giving away SIMs bundled with bonus airtime. Asides network quality considerations, the constant barrage of promos, deals and offers quickly became another reason for Nigerian mobile phone users to keep a rolodex of SIM cards. Cost-conscious subscribers would use one network to take advantage of a discount on voice calls, and promptly switch to another to use up a deal on free SMS.
Today, network connectivity has somewhat improved but the cultural conversion of multiple handsets or SIMs is entrenched; dual-sim model phones like the Tecno Phantom Z and the Samsung Galaxy S5 Mini DUOS are extremely popular.
Even as the SIMs proliferated, phones were still a relatively expensive acquisition, and since most people could only afford one, they were forced to constantly change SIMs as occasion demanded. At some point, Asian traders who would come to Nigeria to sell Chinese phones in Lagos' bustling Computer Village noticed that many people were interested in phones that could support more than one SIM card. Some of the geekier ones had taken to buying SIM adaptors that cram an extra SIM slot into a regular single-SIM device. The first dual-SIM phones were an instant hit, and while they would be renowned for their cheap flimsy builds, the ability to interact with more than one network would turn out to be one of the biggest unique selling propositions that helped Asian brands like Tecno to seize marketshare from Nokia's traditional low-end and midrange stronghold.
Today, no self-respecting phone manufacturer with sales interests in Nigeria would try to introduce a low-end or midrange mobile phone that does not support two SIM cards. The only phone maker that has remained immune to the pressure is Apple, which has traditionally kept its focus on high-margin markets. It also helps explains why Android phones dominate multi-sim devices globally. Although slow to get with the program (initial quality concerns and not wanting to endanger distribution relationships), Nokia would eventually capitulate in the face of inexorable demand and release dual-SIM devices of its own late in 2010. In Nigeria, Nokia seems to have realized, the next billion mobile subscribers are not interested in being joined at the hip to one network provider.