In November last year, I went to India to buy some of those famous cheap smartphones Quartz has been telling you about for the past year. I came back with four smartphones, all of which put together cost me $170. The cheapest was $30.
The quality and features offered by each differed. But they all had one thing in common: Each phone had two SIM-card slots. In the West, where people get their smartphones as part of a contract with their mobile service providers, such phones are rare. In poor countries, where mobile phone users typically buy their phones outright and pay for usage as they go, they are the norm.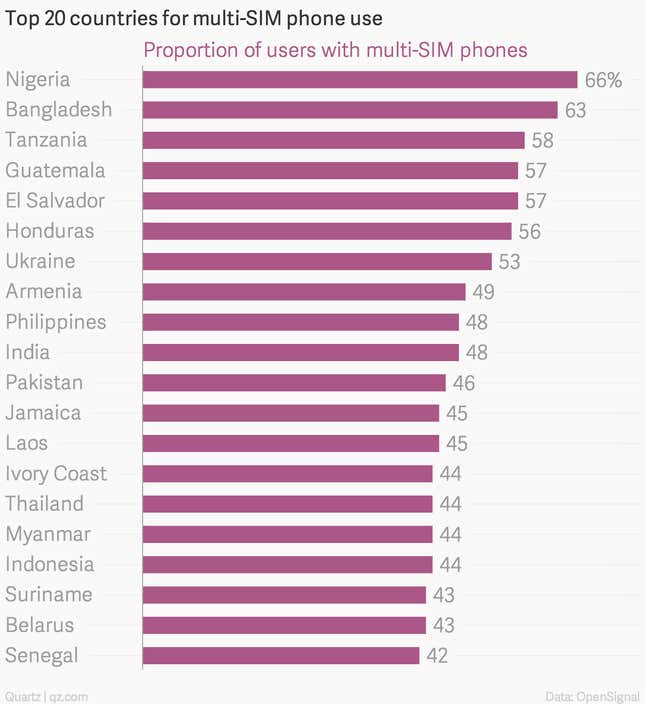 This makes it difficult to know just how many people have phones in those countries. As Quartz explained last July, the number of active mobile phone connections has very little to do with the number of people with a phone connection, because of people with multiple connections.
The use of double-SIM phones contributes to this confusion—and that matters for business, lawmakers, policymakers, and developers. Without a firm grasp of how how many people actually have a smartphone, it is very difficult to accurately gauge the size of any given market or to know how to target new products.
Various attempts have made to strip out the double-counting, including by GSMA, a trade body. But these remain just educated guesses, as Benedict Evans, a partner with Andreesen Horowitz, a venture capital firm explains in this excellent analysis of why it is so hard to arrive at an accurate number.
OpenSignal, a London-based network analytics company, has some hard numbers on double-SIM phones in a new report out today. The firm looked at a million users of its app across the world and found that 25% of all Android users have phones with more than one SIM card slot. The numbers skew heavily to poor countries: Just 2% of Americans and 4% of Britons use these phones, but two-thirds of Nigerians and Bangladeshis have more than one SIM in their devices. Globally, a quarter of Android devices in use are dual-SIM.
To be sure, OpenSignal's numbers are not the final word. But unlike models based on assumptions, OpenSignal's report has the benefit of a large sample of real users. It provides one more layer of data to help untangle the complicated business of mobile penetration.