Weekly claims for unemployment benefits legged lower today, falling to 370,000 from 395,000 last week. That decline was lower than the 382,000 expected by analysts, according to FactSet. And it holds solidly below the 400,000-level that has traditionally been thought of as a rough gauge of when to start worrying about the health of the job market. Here's a look: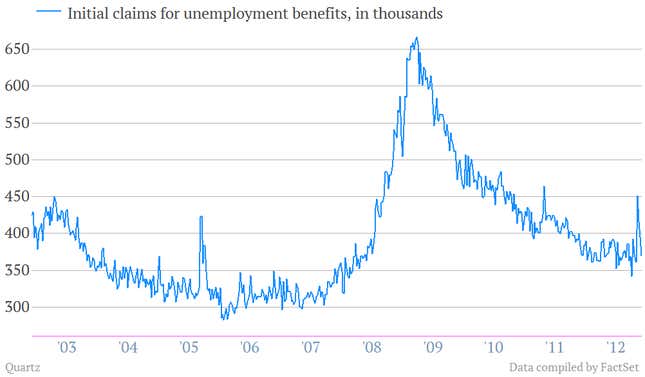 The reduction in claims was driven heavily by a nearly 24,000 reduction in storm-related jobless claims in New Jersey, "primarily from the construction, transportation and warehousing, manufacturing, trade, and accommodation and food service industries." The bounce-back in industries such as construction is consistent with the experience in the aftermath of previous destructive storms, such as Hurricane Katrina back in 2005.
Of course, the main course when it comes to jobs data is tomorrow's unemployment and job growth report for November. Economists expect to hear that the US economy generated 120,000 jobs during the month, leaving the unemployment rate stuck at 7.9%, when the report is released at 8:30 a.m. New York time on Friday.