Fresh off of reports that Apple plans to challenge Tesla in the electric car market, prominent electric car battery maker A123 Systems is suing the company for poaching its top engineers, Reuters reports. The complaint alleges that the company started aggressively going after critical employees in the summer of 2014. In addition to Apple, it's suing five ex-employees.
We know Apple has hired people like the former Mercedes Benz's Silicon Valley research lab, a number of ex-Tesla employees, and is letting project head (and former Ford engineer) Steve Zadesky pull people from elsewhere (paywall) in the company. But how many auto and battery types has it pulled in overall?
Quartz combed through LinkedIn data to try and figure it out. That data comes with some caveats, it's prone to occasionally double count people, may include people hired a long time ago, and relies on people's unverified accounts of where they do and have worked. But it's a good rough guide to where the company tends to hire from. (We sent an email to Apple requesting comment, and will update this post should the company respond.)
Apple obviously has interest in batteries beyond just cars, but it some recent hires seem car focused. Here are people it has hired with previous experience at A123, and other battery focused firms the company said it believed Apple also poached from in its complaint. One of the leaders is Panasonic, which makes products closer to Apple's more conventional offerings, but is also Tesla's main partner for its electric car battery Gigafactory.
But the hires from A123 are the most telling, as its technology is narrowly focused on electric cars: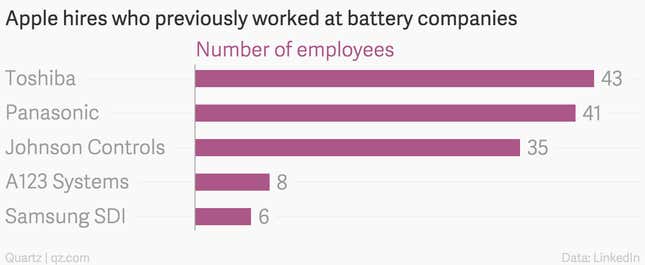 On the auto side, giants Ford and GM lead the pack, with Tesla close behind. Reuters found more than 60 former Tesla employees currently at Apple, so the real number might be even higher: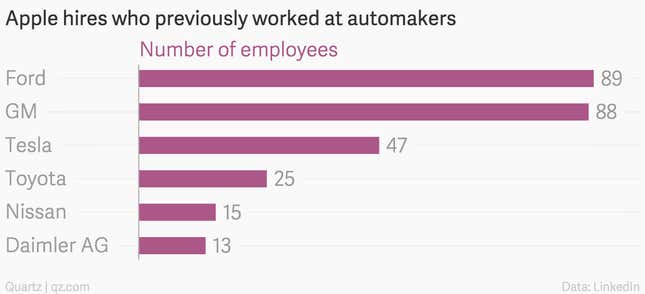 These numbers are likely to increase over time, Zadesky has permission to put together a team of a thousand people according to the Wall Street Journal (paywall), so Apple's probably not done poaching yet. But to this point, the number of people pulled from auto and battery hires are dwarfed by the people it pulls from elsewhere.