The net worth of American households continues to improve, according to the Federal Reserve's quarterly "flow of funds" data out Thursday. Bloomberg reports:
Net worth for households and non-profit groups increased by $1.72 trillion from July through September, or 2.7 percent from the previous three months, to $64.8 trillion, the Federal Reserve said today from Washington in its flow of funds report.
A recovery in household wealth, which plunged in the wake of the recession, may put more Americans in the mood to spend during the holiday-shopping season and give the world's largest economy a lift. Net worth is still below its pre-recession peak, one reason the Federal Reserve is considering additional actions to spur expansion.
Here's a look at household net worth over the last few years.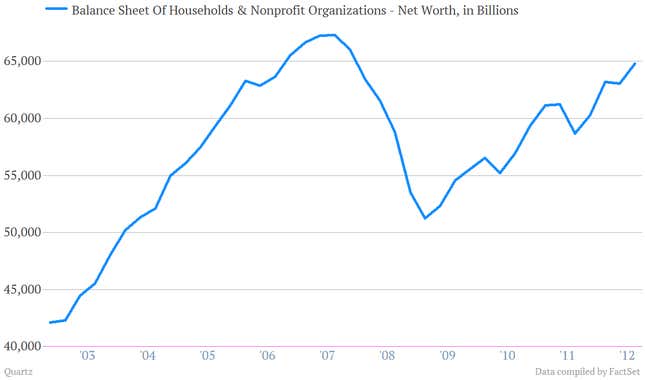 A lot of that improvement has been driven by improvement in real estate assets in recent quarters.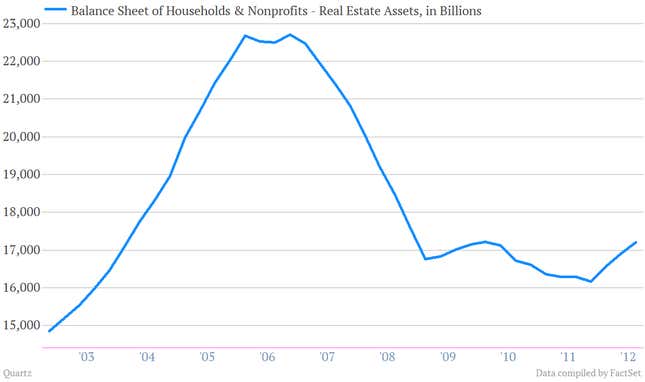 This is a very big deal. As we've said before, so much in the US economy hinges on improvement in the housing markets. As housing prices rise, the net worth of American households likely improves, bolstering their spirits and boosting the likelihood that they will spend. And since consumer spending is roughly 70% of the US economy, that is, well, nearly everything.