Last night, while most of the US (particularly its media reporters) were fixated on the annual Hollywood extravaganza known as the Oscars, an intriguing story broke on the other side of the planet, about two of the country's major television companies.
The Australian Financial Review, reported that 21st Century Fox, Rupert Murdoch's film and TV colossus, had met with people from Discovery Communications "to discuss a potential takeover bid." Like all good merger and acquisitions stories, this one contained all the standard caveats: discussions were in very early stages. and there was no guarantee a formal offer would be made.
Fox emphatically denied the report. "The AFR story is categorically untrue," a spokesman said via email. Discovery declined to comment. So make of that what you will. Remember, Fox attempted an audacious $80 billion bid (paywall) for Time Warner Inc last year, but was rebuffed. The market seems to think that where there is smoke, there is fire. Discovery shares have spiked by as much as 8% today, having been been in the doldrums over the past year.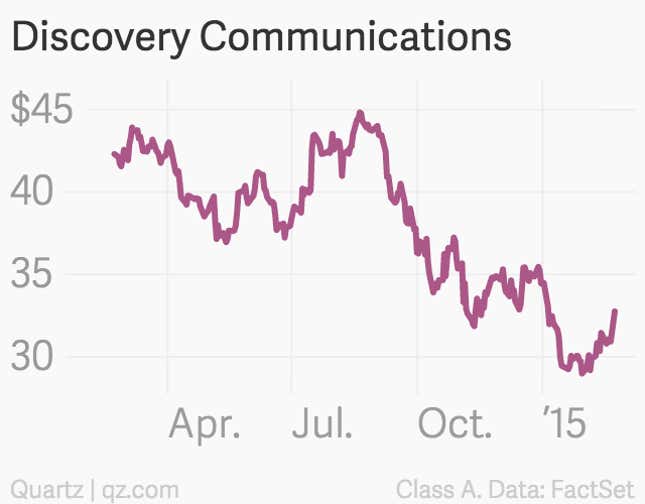 Still, on the face of it, it would be a curious move. Many people (like me) think Fox wanted to buy Time Warner to get its hands on HBO, the premium channel behind a long list of popular and valuable shows like Game of Thrones and True Detective. Discovery's properties do not fit this mould. Quartz's Adam Epstein has chronicled the sad devolution of its main, nature-themed cable channel (the Discovery Channel), which has shifted away from fact-based programming into low-brow fare like Amish Mafia, and ratings stunts like Shark Week.
But at least one Wall Street analyst thinks Fox and Discovery getting together would be a terrific idea. Bernstein Research's Todd Juenger said in a missive to clients this morning that if Fox and Discovery "are not talking, we think they ought to have a chat," because a merger "would make strategic sense on a number of levels." He has previously described a tie up between them as "the absolute killer combination."
Since Fox's National Geographic channel would compliment Discovery's eponymous channel, and Discovery's Eurosport would augment Fox's existing sports properties, Juenger thinks a combination would create the world's  "dominant international cable network group." The combined group could achieve cost savings while boosting the affiliate fees it gets from distributors like Comcast, he says.
Perhaps the main impediment to this would be John Malone. The billionaire media mogul and long time Murdoch adversary is a board director of Discovery and holds most of its class B, voting stock. He is also a legendary dealmaker.  If anything is to happen, Malone will almost certainly be pulling the strings.