For the first time since Hong Kong was returned to Chinese control almost 20 years ago, the number of mainland visitors during Chinese New Year holiday has fallen—a statistically small but symbolically large dip that suggests a lasting toll on tourism from the city's pro-democracy protests last year.
Data from Hong Kong's immigration department showed a 675,155 mainland Chinese visited Hong Kong over the five days between Feb. 18 and Feb. 22, a 0.16% drop from the year before over the same time period. Tourism accounts for about 4.7% of Hong Kong's GDP, driven mostly by mainland visitors.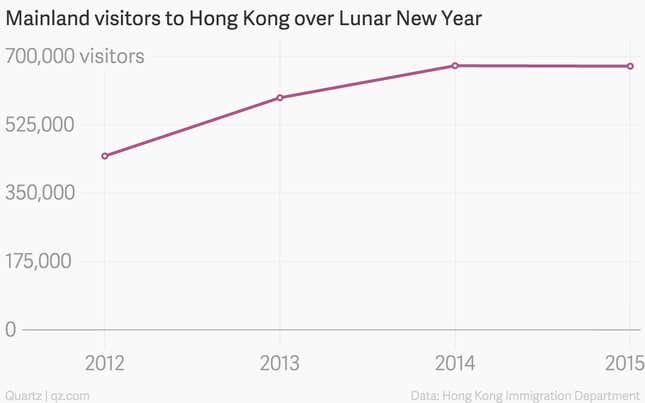 "It is the first time I have seen a drop during the Chinese New Year. That is due to a series of protests against mainland visitors. Some of them have given up on Hong Kong," Joseph Tung Yao-chung, executive director of Hong Kong's Travel Industry Council, told the South China Morning Post (paywall).
Political tension in Hong Kong, as well as a corruption crackdown back home—officials and their relatives often come to Hong Kong for their luxury shopping—may also be contributing to falling visitor numbers. The Hong Kong-based brokerage CLSA predicts the number of visitors from the mainland will rise by only 4% this year, compared to a 16% increase in 2013.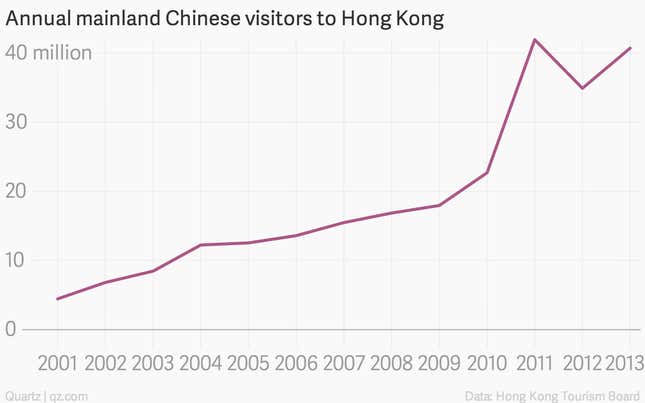 Two and a half months of pro-democracy protests that ended in December may have also emboldened locals that feel resentment against mainland tourists. Critics have blamed the city's relatively open tourism policy toward mainlanders for everything from high real estate prices to depleted supplies of infant formula. Last week, groups of protesters surrounded Chinese shoppers, chanting, "Away with wung chung" a Cantonese slur against mainlanders that means "locusts." A local fruit seller made headlines for posting signs that he would no longer sell to mainland shoppers.
Hong Kong's establishment may try to reap a political advantage from the drop in tourism, using the dip as evidence that protesters have hurt the city's economy. At a parliamentary meeting in Beijing next month, Hong Kong delegates are expected to ask for the implementation of a security law that would help prevent another outbreak of protests.