The most famous architectural structure in the world is now the world's most famous icon to environmental sustainability.
The Eiffel Tower—one part broadcasting tower, two parts tourist destination—has joined the green energy movement with two wind turbines retrofitted on its second level. Urban Green Energy (UGE), a New-York-based renewable energy design firm, is responsible for the twin turbines, which can be seen, but not heard.
Here you can see them spinning on the right side of the second level, about 120 meters high:
The turbines were painted to blend with the iron of the tower and are virtually silent. But they're still hard not to notice, given that the rest of the hulking tower is still.
The 10,000 kilowatt-hours of electricity they'll produce each year is about enough to self-sustain the commercial section on the tower's first floor, but not much else. The project, really, is about visibility. If one of the most famous monuments in the world—worth roughly €435 billion ($489 billion) to the French economy—can use sustainable energy, why can't everything else?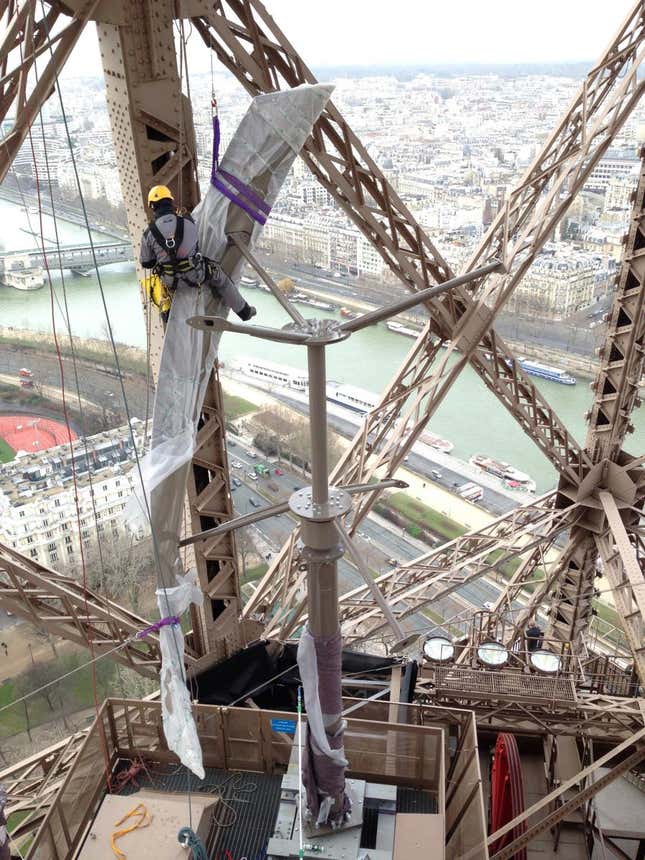 "The Eiffel Tower is arguably the most renowned architectural icon in the world, and we are proud that our advanced technology was chosen as the Tower commits to a more sustainable future," said Nick Blitterswyk, CEO of UGE, in a press release. "When visitors from around the world see the wind turbines, we get one step closer to a world powered by clean and reliable renewable energy."
Paris, as it happens, is also the site of an important UN conference on climate change, happening late this year.
Seven million tourists visit the Eiffel Tower every year. The Société d'Exploitation de la Tour Eiffel, the company that operates the tower, estimates that 250 million tourists have visited the tower since it was erected in 1889.
UGE has done a wide range of projects for an even wider range of clients, from BMW to the Philadelphia Eagles to the Chinese navy. The Eiffel Tower project, though, is undoubtedly its most high-profile installation to date, and the one that has great potential to increase awareness for climate-focused movements.
Perhaps those mysterious drones from earlier this week were operated by people who just wanted to get a closer look at the new wind turbines.